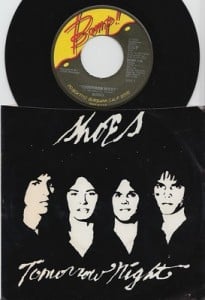 Power pop is one of those genres that is sadly underrepresented in the average Joe's awareness of rock music. Of course the Beatles pretty much invented it, and along the way such bands as The Raspberries, Cheap Trick, and Gin Blossoms have carried the flag with varying degrees of commercial success. In the late 70s, another band, ironically from Cheap Trick's home state of Illinois, stood poised on the cusp of stardom, but never reached the heights (massive album sales, a world-wide audience, TV theme songs, Rock'n'Roll Hall of Fame) that their fellow Illinoisans did.
The Shoes were formed in 1974 in Zion, Illinois, by John and Jeff Murphy, and their friend Gary Klebe. That core of the band remains to this day, while over the years they've been thru more drummers than Spinal Tap. Enterprising young lads, they recorded the album Black Vinyl Shoes in Jeff Murphy's house, and released it on their own label, Black Vinyl Records in 1977. This was enough to gain the attention of the legendary Bomp! Records label, which released today's song, "Tomorrow Night" as a single in 1978. It was also included on the compilation The Best of Bomp! Volume One, which is how it came to my attention, when I picked up said album from the cut-out bin at my local record store.
In 1979 the group was signed to Elektra records, and later that year released their major label debut, Present Tense, now considered a power pop classic. The group re-recorded "Tomorrow Night" for inclusion on the album, exchanging the original's jangle-pop, garage-rock vibe for a much slicker sound, which, to the producer's credit, does not ruin the song. Videos for the song, as well as 3 others for the album, were shown on the very first broadcast day of MTV, with "Tomorrow Night" and "Too Late" being  frequently shown in the following weeks.
Alas, about this time the music industry was in a slump, and Elektra dropped the group after 2 more albums, Tongue Twister and Boomerang. Did I mention they were enterprising young lads? Not ready to quit the music biz, they built their own recording studio, where they recorded not only their own music, but that of many other bands, gaining a national reputation. In today's world of samples, synthesizers, and auto-tuned vocals, it's refreshing to hear young men with loud guitars, a knack for melody, and a dream. Enjoy.