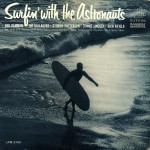 They were a surf group from Boulder, Colorado. Yup, you heard that right, the group was from Colorado, where there is no ocean in sight, and yet they recorded nine surf albums for RCA Records during the 1960s.
The Astronauts consisted of Rich Fifield (guitar and vocals), Jon "Storm" Patterson (guitar and vocals), Bob Demmon (guitar), Dennis Lindsey (guitar) and Jim Gallagher (drums).  When the group went into the recording studio to record their first album in 1963, they'd never heard of or played surf music before.
Their first single was "Baja" which was written by none other than Lee Hazelwood (who was famous for his production work with Duane Eddy and Nancy Sinatra). The song was the group's only appearance on the U.S. charts, where it flew all the way up to the none-too-impressive height of #94, and stayed for one solitary week.
The song was from their debut album, Surfin' With The Astronauts (released in 1963) and featured covers of some of the biggest surf hits of the day including "Surfin' U.S.A.," "Miserlou," "Pipeline," "Susie Q," "Let's Go Trippin'," "Batman" and "Banzai Pipeline" (written by Henry Mancini, no less). Their other classic single was the hot rod tune, "Competition Coupe," which also served as the title cut from one of their albums of, you guessed it, hot rod tunes.
But while success seemed to elude The Astronauts here in the states, they found they were "Big In Japan" (as the song title goes), where they scored a number one hit with the song "Movin'" (retitled "Over The Sun" for the Japanese market) and three top-ten albums.
By 1967, it was pretty much over for The Astronauts when Gallagher and Lindsey were drafted and went to Viet Nam. However, Fifield did go on to become a member of one of the versions of the psychedelic rock group, The Electric Prunes.