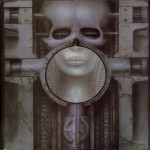 There was a time when dinosaurs roamed the earth. I'm not talking about the Tyrannosaurus Rex, Hadrosaurus, or even your garden variety Pterodactyls. These dinosaurs wore coats of proggy sound typified by 20 minute epic-length, multi-movement suites of music. These were dinosaurs that really knew how to play their instruments. Dinosaur's with classical training, and dinosaurs that went by names like King Crimson, Gentle Giant, Genesis, PFM, The Moody Blues and Yes.
There was no pretention in what they were doing, yet many of them were very, very pretentious. And if you were a rock fan of the 1970s, you ate it up. You loved it. There was nothing better.
But a funny thing happened on their way to extinction…their music has stood the test of time. Sure the punk rock movement temporarily put them out to pasture, but today there is a whole new wave of Prog Rock bands out there (for better or worse), and a whole new fan base along for the ride.
Which brings us to Prog Rock's first "supergroup," Emerson, Lake & Palmer. ELP formed in 1970 and consisted of keyboard wizard Keith Emerson who was formerly with The Nice, Greg Lake who came from the classic Prog pedigree of King Crimson, and Carl Palmer who was originally with The Crazy World Of Arthur Brown and Atomic Rooster.
When the group first formed, Emerson and Lake got together and were looking for a drummer. Their first choice was Mitch Mitchell of The Jimi Hendrix Experience, however this didn't work out and acting on a suggestion from Robert Stigwood (of RSO Records fame), the pair ultimately chose Carl Palmer.
The uncredited fourth member of ELP was lyricist, Pete Sinfield, who met Lake when he was writing lyrics for King Crimson. Sinfield would later go on to co-write mega pop hits like "Heart Of Stone" for Cher and "Think Twice," a chart-topper in eight countries by Celine Dion, but I digress….
Today's Song Of The Day is the centerpiece of ELP's greatest record Brain Salad Surgery, which was released in 1973 and sent the band's popularity into the stratosphere. "Karn Evil 9" was an extended piece that took up 2/3 of the album. The piece's title was a play on the world "Carnival" (Karn Evil – get it?) and appeared in three parts. The "1st Impression" is by far the most popular section mainly for its second part that begins with "Welcome Back My Friends To The Show That Never Ends." An instrumental section of the "1st Impression" was also used for many years as a musical bumper by New York City classic rock FM radio station, WPLJ.
"Karn Evil 9's" perverted circus show lyrics were some of Sinfield's finest, including the following brilliant cadences: "Soon the Gypsy Queen in a glaze of Vaseline / will perform on guillotine / What a scene, what a scene. / Next upon the stand / will you please lend a hand / to Alexander's Ragtime Band / Dixieland, Dixieland…Performing on a stool / is a sight to make you drool / Seven virgins and a mule / Keep it cool, keep it cool. / We would like it to be known / the exhibits that were shown / were exclusively our own / all our own, all our own."
The "2nd Impression" of "Karn Evil 9"is where ELP tried their hand at straight-ahead Jazz and came out winners. Elements of the piece were based on a track by Sonny Rollins called "St. Thomas." The 3rd Impression" was the least interesting of the three, although it is notable for including Keith Emerson's only vocal appearance on an ELP record.
The album opens with a stately church hymn called "Jerusalem" that featured lyrics from a poem by William Blake. The song was originally slotted to be the first single, but the band didn't want to send out a message about themselves that could be misconstrued. It was subsequently released as a single later on.
"Toccata" is a nine minute percussive instrumental that was based on the 4th Movement of Argentine composer, Alberto Ginastera's "1st Piano Concerto." After recording the piece, they found out that Ginastera would not give the band permission to interpret his work. So they traveled out to Geneva to meet with the composer face to face. Once Ginastera heard the piece, he gave his approval.
All good ELP albums had a least one ballad that would garner radio play and one throwaway rocker to provide relief from all the bombast. Brain Salad Surgery's ballad was Greg Lake's beautiful "Still…You Turn Me On," which was the big FM radio airplay hit on the album. "Benny The Bouncer" was the throwaway rocker, much like "Are You Ready Eddie" from Tarkus and "The Sheriff" from Trilogy. The song was a piss-take that sounded like a Keith Moon outtake.
The album's title came from a line in the then-current Dr. John hit "Right Place, Wrong Time," although the album originally went by the working title Whip Some Skull on Yer,; which was a euphemism for fellatio.
The cover was designed by Swiss artist H.R. Giger, who also designed albums for Debbie Harry (Koo-Koo), Danzig (Danzig III & How The Gods Kill), Celtic Frost (To Mega Therion), and most notoriously, the penis-laden inner poster to The Dead Kennedys' Frankenchrist album that led to an obscenity trial. The penis was also an integral element to Giger's design for Brain Salad Surgery, but the offending appendage was airbrushed into a shaft of light under the woman's chin with the band's initials on top of it, in order for it to appear on retail record store shelves. The woman on the cover was Giger's girlfriend, Lil Tobler who committed suicide shortly after the album's release.
In support of the album, ELP embarked on what became their largest world tour ever, titled the "Someone Get Me A Ladder" tour. (The tour name came from the lyrics to "Still… You Turn Me On"). A chart-topping triple live album from the tour was released the following year under the title, Welcome Back My Friends to the Show That Never Ends – Ladies and Gentlemen: Emerson, Lake  & Palmer.