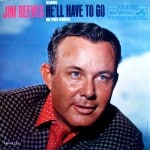 They called him "Gentleman Jim," but it wasn't always that way.
When Jim Reeves began his singing career, he was a reedy-voiced country bumpkin who specialized in novelty songs like "Bimbo" and "Mexican Joe." A shift came in 1957 during the recording sessions for the song "Four Walls." Reeves decided he wanted to set the session up differently, leaving pedal steels and fiddles by the wayside in favor of a more uptown sound featuring smooth background vocals by The Jordanaires, tasteful slip-note piano fills courtesy of Floyd Cramer and spare guitar strumming courtesy of Chet Atkins.
But the real change came in Reeves' approach to his singing. With his mouth up close to the microphone, he sang in a smooth, intimate whisper-deep croon more akin to Perry Como than Hank Williams. The result was a single that topped the charts and sold 750,000 copies. Along with his change in performing style, Reeves left the Nudie styled suits on the hanger, and adopted a new cosmopolitan look complete with business suit and tie.
Today's Song Of The Day took Reeves' new approach to even greater heights. "He'll Have To Go" was written by Joe and Audrey Allison and was first recorded by singer Billy Brown. When Brown's version failed to make waves, Reeves recorded it using a small studio group featuring Floyd Cramer on piano, Marvin Hughes on the vibraphone, Bob Moore on bass, Buddy Harman on drums, Hank Garland on guitar and the Anita Kerr Singers on the background vocals.
Reeves had his intimate way with the song's intimate lyrics: "Put your sweet lips a little closer to the phone/Let's pretend that we're together all alone/I'll tell the man to turn the juke box way down low/And you can tell your friend there with you he'll have to go," genuflecting his voice way down low to match the lyrics.
The song was originally released as the B-side of a single with "In a Mansion Stands My Love" on the A-side, however DJs flipped it over resulting in a country hit that stayed at the top of the charts for 14 consecutive weeks! (The song also climbed to the #2 slot on the pop charts and #13 on the R&B charts.) Over the years, it has been covered by the likes of Elvis Presley, Tom Jones, Ry Cooder, Elton John, Mark Knopfler and Bryan Ferry, to name but a few.
Unfortunately, Reeves reign on the charts was short-lived; he died, along with his manager and pianist, in a plane that he was piloting in Brentwood, TN on July 31, 1964 at the young age of 40 years old. Reeves widow continued to work with RCA Records to supply a steady stream of recordings through the pipeline and onto a public who couldn't get enough. Many of the records had re-recorded backing tracks including a few posthumous duets with Patsy Cline, resulting in more than fifteen top-ten hits well into the 1980s and long after his death.