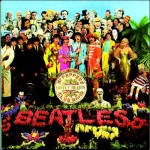 I just heard The Beatles' Sgt. Pepper's Lonely Hearts Club Band for the first time today!
Well, that's not entirely true. I've been listening to this record since it was new. I guess that's one of the big positives of having older siblings, you got to hear cool records when they came out, way before your peer group caught on to them.
I've been reading the Howard Kaylan biography Shell Shocked which was written by Kaylan and Jeff Tamarkin. Howard Kaylan was a member of The Turtles and The Mother's Of Invention. He was also Eddie of Flo & Eddie. So far, the book is a great read with numerous first person accounts of historic musical moments, a real page turner!
Kaylan tells the story of The Turtles' first visit to England in 1967 when their hit "Happy Together" was riding high on the charts. No sooner had the band arrived at their hotel, they received a call from Graham Nash, then of The Hollies, who invited the group over to his house for a little "refreshment." While visiting, Nash pulls out a reel-to-reel tape of The Beatles' forthcoming Sgt. Pepper album. Kaylan proceeds to tell about that game changing first listen, and the seismic impact the record had on him and everything that came after it. The story continues with Nash taking them to a swingin' London club for an audience with The Fabs (at least three of them) that went awry because John Lennon was being a prick.
Inspired by Kaylan's story, I tried an experiment on my way to work today. I cued up Sgt. Pepper on my iPod and tried to listen to the record as if it were the first time I'd ever heard it. In my mind, I wiped away the impact the record had on everything that came after, and proceeded to attempt to experience the record as if it was the first time I'd ever heard it.
It was impossible to do. Too much baggage, too many lyrics ingrained in my memory, too much life lived with this record for it to sound truly brand new.
What I did get from my experiment was a newfound appreciation for how it really was one of the most groundbreaking records of the time, and for that matter all time. With its segued songs and symphonic sequencing, use of recording techniques and layers upon layers of sound, plus its distinctive front cover graphics that begged hours of study and the inclusion of lyrics on the back, it really is a special record from a very special time in history.
That said, it was never my favorite Beatles record, but after 46 years the record still remains fresh and unique. Its inventiveness remains stunning. So what more can I possibly say about this record that hasn't been said before? Absolutely nothing, except if you haven't visited its wonderment in awhile, it's high time you did.