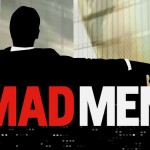 I know I've featured both of these classics before, but with the return of Mad Men to our TV screens for a new season, they both seemed appropriate to feature again.
The first song is the epitome of the early seasons of Mad Men by America's favorite playboy of the time. Back in 1962, Frank Sinatra was the epitome of that "Ring A Ding Ding" era with his Rat Pack buddies tearin' up the Vegas town on a nightly basis. Oh to be a fly on the wall for some of them hi-jinx!
"Don'cha Go 'Way Mad" is a somewhat chauvinistic comment on the subservient role women played during the early '60s. It has lots of verve and swagger as it nonchalantly asks the woman to forgive and forget her man's fling…but at least it does swing! It comes from one of The Chairman Of The Board's greatest sixties albums, Sinatra and Swingin' Brass, and was written by Jimmy Mundi, Al Stillman and Jazz saxophonist, Illinois Jacquet. The arrangements come from the one and only Neal Hefti.
The second song in today's Mad Man salute is one of my very favorite Burt Bacharach-Hal David compositions! Jack Jones was awarded a 1964 Grammy award for Best Pop Male Performance for "Wives And Lovers." He also won one in 1962 in the same category for his hit "Lollipops and Roses." Along with the equally talented pop vocalist, Robert Goulet, he was also known for his recording of "The Impossible Dream" from the musical Man Of LaMancha. Mr. Jones also scored big with the incomparable "Love Boat Theme" and "Lady."!
The times were different back then…and as we enter yet another new season of Mad Men, the times are a-changin' still