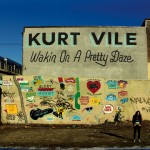 Kurt Vile's lo-fi bedroom records from the past have given way to a more produced sound on his latest record called Wakin' On A Pretty Daze.  While some of the edges have been smoothed out production-wise, the songwriting is as sharp as ever on his most assured collection yet, as he comes to terms with balancing life on the road and raising a family at home.
Vile is married and has two young children and more than on any of his previous albums, the overriding theme of homesickness pops up time and time again. Both "Pure Pain" – "well I want to be with you (when can I?) / I don't know, well I'm workin'" and "Snowflakes Are Dancing" – "when I'm away out there/ I wanna go home/ when I am home/ my head stays out there," touch on dealing with the rootless experience of touring versus the stability of family and home.
On the song "Too Hard," Vile proclaims "I will promise not to smoke too much and/ I will promise not to party too hard" as a pledge of responsibility while away, then a few songs later on "Shame Chamber" he seems to do an about face; "It's just another day / in the shame chamber / livin' life to the lowest power / feelin' bad, in the best way a man can."
The album opens with a snoozy wake-up call "Waking On A Pretty Day." There's no rush in getting things going over this song's nearly ten minute duration, while crystalline guitar work bolsters come-what-may lyrics like "I gotta think about what wisecracks/ I'm gonna drop along the way today." And just when you begin to settle into the relaxed pace of the track, Vile jars us into reality with an appropriated riff from Deep Purple's "Woman From Tokyo," announcing one of the album's few rockers "KV Crimes."
Vile is an artist that gets put into the lo-fi stoner bag due to his oh, so groovy long-haired appearance, and the fuzzy dreamscapes and mumbled vocals that dominate his recordings. But this record has real production value courtesy of John Agnello who also produced Vile's last platter. So while he may not be able to fully shake the stoner label sonically, he does come right out and address the issue on the album's pastoral sun-soaked ten minute closer "Goldtone"  –  "Sometimes when I get in my zone / you'd think I was stoned / but I never as they say 'touch that stuff… I might be adrift but I'm still alert/ Concentrate my hurt into a gold tone."
Vile's band, The Violators is now down to a trio consisting of multi-instrumentalists Jesse Trbovich and Rob Laakso due to the amicable departure of Vile's longtime War On Drugs collaborator Adam Granduciel. They will be joined by drummer Vince Nudo and guitarist Steve Gunn on their upcoming tour in May. Today's Song Of The Day, "Never Run Away" is the also the album's first single.