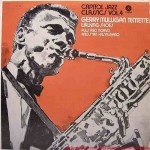 The innovative instrumentation and arrangements of Miles Davis' landmark Birth Of The Cool nonet sessions from 1948, on which Gerry Mulligan played baritone saxophone, was a major influence on Mulligan's Tentette recordings from January of 1953 that included "Simbah," today's Song Of The Day. But even though the Tentette recordings are less well known than the storied Birth Of The Cool sessions, they are every bit as essential and influential.
Sessions for the songs "Westwood Walk," "A Ballad," "Walking Shoes" and "Rocker" took place in Los Angeles on January 29th 1953, while the recordings of "Flash," "Ontet," "Taking a Chance On Love"  and today's Song Of The Day "Simbah," took place on January 31st, 1953. Seven of the eight compositions were penned by Mulligan and the doubling up of the voices of the trumpet, baritone saxophone and drum parts was inspired by the arrangements from Davis' Birth Of the Cool session.
The Tentette line-up consisted of Chet Baker and Pete Candoli on trumpet, Bob Enevoldsen on ventile trombone, John Graas on the French horn, Ray Siegel on tuba, Bud Shank on alto saxophone, Don Davidson and Gerry Mulligan on baritone saxophone, Joe Mondragon on bass and Larry Bunker and Chico Hamilton on drums.
While Chet Baker and Gerry Mulligan had an, at-best turbulent relationship, there is no sign of animosity in the grooves of the eight tracks from the session that are featured on the album Walking Shoes,"  a 1972 vinyl Capitol compilation album. In 1971, Mulligan commented "The tentet (sic) is essentially my original quartet with Chet Baker combined with the instrumentation of the Miles Davis nonet…I would have liked to pursued (the tentette) further at the time, but c'est la vie."
The recordings of the Mulligan Tentette and Davis' Birth Of The Cool both marked a major development in post-bebop jazz whilst casting a long, lingering shadow on all that would follow in symphonic jazz.