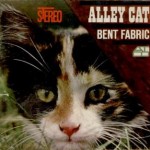 Dance crazes come and go, but they are never forgotten.
Today there's Psy's "Gangnam Style," wreaking havoc across dance floors all over the world. In the 1990s, there was "The Macarena." In the 1980s, country line dancing and "The Lambada" had their day in the sun, and the '70s gave us "The Electric Slide." But in the early 1960s, there was only one communal synchronized dance that kids and adults alike shared in, making it a staple at weddings, proms and Bar Mitzvahs.
That dance was "The Alley Cat."
In actuality, "The Alley Cat" began as a 1961 hit for Bent Fabricius-Bjerre in Denmark under the title "Omkring et Flygel" ("Under The Table"). The song was picked up for U.S. distribution by Neshui and Ahmet Ehrtegun and released on their Atco label in 1962, where it became a million-selling top-ten hit.  The song also went on to win a Grammy Award for, get this, Best Rock and Roll Record of 1962!
Fabric released six albums on Atco between 1962 and 1968, with titles like The Happy Puppy, The Drunken Penguin and Operation Love Birds, with animal-centric album covers to match. He was also paired up with Atco's other big instrumentalist, Acker Bilk, for a series of recordings. But no matter how many albums were released, in America he is still only associated with one thing, "The Alley Cat."
Fabric got his start playing Jazz piano in Denmark before moving into the realm of film scores, where he wrote music for 27 different Danish films. He also founded Metronome Records in 1950, which went on to become one of the most successful Danish record companies. One of his signings was Jorge Ingmann who scored a #2 hit in America with his classic instrumental "Apache."
While Fabric has seemingly faded from view in America, he's continued to release recordings in Denmark over the years, most recently scoring two top-ten hits in 2006 from his album called Jukebox. That album's title track also got airplay in dance clubs across America, where a remix of "Alley Cat" was also re-released.
Surprisingly, in Mexico, ice cream trucks co-opted "The Alley Cat" as their calling card, so when children hear it blaring through the streets, it means the ice cream man is in the neighborhood.