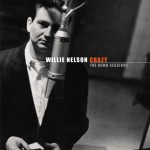 "If you can't say you love me say you hate me,
And that you regret each time you held me tight,
If you can't be mine forever then forsake me,
If you can't undo the wrong, undo the right."
Totally brilliant in its simplicity!
And so is this demo recording made for Pamper Music, the music publishing company owned by Ray Price and Hal Smith. Only Willie Nelson could put this song over so matter of fact, and that's why he is not only considered one of the greatest songwriters of all time, but also one of the greatest song stylists bar none. His vocals are unique and utterly resourceful so as not to over sing a single note. There's a lesson to be learned here for all of the American Idols out there who believe putting a song over means over singing, and never hitting a note square on the head.
The Pamper demos were all one-take affairs recorded primarily between 1961 and 1966. "We would cut fifteen; sometimes twenty songs in one session…The publisher would make us wait until we had that many songs before we'd be allowed to go into the studio." (Willie Nelson)
Some of the later Pamper sides had backing by a crack band with Willie Ackerman and Buddy Harmon on drums, Bob Moore, Roy 'Junior' Huskey and Floyd 'Lightnin' Chance on bass, Hargus 'Pig' Robinson on piano, Ray Edenton and Pete Wade on guitars and Jimmy Day and Buddy Emmons on pedal steel guitar.
That's Jimmy Day on the pedal steel here, both he and Nelson were members of The Cherokee Cowboys, which was Ray Price's backing group in 1961 when this was committed to tape.
Record Store Day this year saw the release of the Willie Nelson vinyl album Crazy – The Demo Sessions on Sugar Hill Records, featuring fifteen of the Pamper Demos including the Nelson classics "Are You Sure," "Crazy," "Things To Remember," "Are You Sure," "Three Days" (a #3 hit for Faron Young) and "I've Destroyed The World" that Ray Price took to the top twenty of the charts.