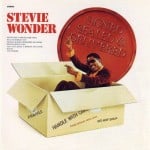 He was no longer little…but he was not yet big either…
By 1970, Stevie Wonder had grown restless with the constraints that Motown Records put upon his creativity. Rather than continue to create commercial fodder that was sure to climb the charts, Wonder wanted to dig deeper by addressing social concerns with his music, and exploring different instrumentation on his records. On his 1970 album Signed, Sealed & Delivered, he began to spread his musical wings and display a newfound maturity in his songwriting and his singing, particularly on songs like "I Can't Let Heaven Walk Away," "Something To Say" and "Never Had A Dream Come True."
Sure, he still had the ability to give Motown what they wanted, but Wonder craved more control over his recordings, and for this album he wrote or co-wrote seven of the tracks and received full production credit for the first time. (In reality, he actually only produced two of the tracks and co-produced three more.)
Along with the hit title track (#1 R&B, #3 Pop), the album also featured the singles "Heaven Help Us All" (#9 Pop), "Never Had a Dream Come True" (#11 R&B) and Wonder's cover of The Beatles' "We Can Work It Out" (#13 Pop). Wonder's version of the Beatles classic announces its intention right from the get-go with one of the most succinct and exciting organ intros ever to grace the Motown label. From there, it's a non-stop soul fest compete with Wonder's exuberant lead vocals over funky harmonica riffing flying around the mix. The recording earned Wonder his second Grammy Award nomination, for Best Male R&B Vocal Performance, while the album hit #25 on the Billboard Pop Albums chart and also climbed to the #7 spot on the R&B Albums chart.
The song was credited to Lennon and McCartney; however the lyrics were primarily written by McCartney and were about his relationship with then girlfriend Jane Asher. The Beatles' recorded it during the sessions for Rubber Soul, and released it as one side of a double A-sided single with "Day Tripper" on the flip.
Wonder's version was heard playing over the closing credits of the 2005 film Kicking And Screaming. He also performed his version of the song at The White House to honor Paul McCartney in 2010 when McCartney was awarded the Gershwin Prize by the Library of Congress.
While the release of Signed, Sealed & Delivered was a somewhat tentative step toward full-blown maturity on vinyl, It did bring Wonder one step closer on the road to world class albums like Music Of My Mind, Talking Book, Innervisions, Fulfillingness' First Finale and Songs In The Key Of Life.