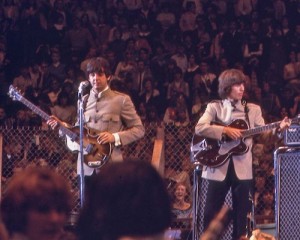 1965, During a North American tour The Beatles played two shows at the Cow Palace in San Francisco, California to a total of 28,700 fans.
1968, The Move, The Pretty Things, The Crazy World Of Aurthur Brown, Orange Bicycle, Jefferson Airplane, Fairport Convention and Tyrannosaurus Rex all appeared at the first Isle Of Wight Festival held over two days. Tickets, 25 shillings, ($3.00).
1968, Howlin' Wolf performed at the Grande Ballroom, Detroit, Michigan.
1969, During a North American tour Led Zeppelin appeared at the Texas International Pop Festival in Lewisville. Also on the bill, BB King, The Incredible String Band, Sam & Dave and Janis Joplin.
1970, Led Zeppelin played before 6,000 fans at the Milwaukee Arena, in a concert rescheduled from August 27th. One reviewer wrote, "The groups started slow, finished big, and the crowd unwound with them. By the end of the show the area in front of the stage was filled with hundreds of people who finally won out over the security guards."
1971, The Rolling Stones, plus the father of Brian Jones, filed a high court writ against former managers Andrew Loog Oldham and Eric Easton. They claimed the duo made a secret deal with Decca Records in 1963 to deprive the group of royalties.
1972, David Bowie appeared at Starkers Royal Ballrooms, Boscombe, Australia.
1974, Rolling Stone Keith Richards was quoted as saying, "I gave up drugs when the doctor told me I had six months to live."
1975, Rod Stewart and the Faces, Loggins & Messina, Fleetwood Mac and Lynyrd Skynyrd all appeared at Balboa Stadium, San Diego, California.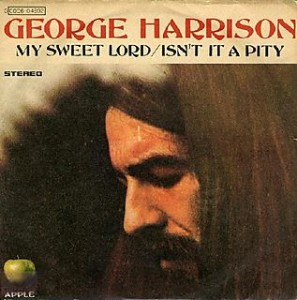 1976, George Harrison was found guilty of "subconscious plagiarism" of the Ronnie Mack song "He's So Fine" when writing "My Sweet Lord." Earnings from the song were awarded to Mack's estate. The Chiffons then recorded their own version of "My Sweet Lord."
1977, Yes played at Dane County Memorial Coliseum, Madison, Wisconsin.
1981, The Grateful Dead performed at the Aladdin Hotel Theater in Las Vegas, Nevada.
1984, Purple Rain, the movie-starring Prince opened at cinemas across the UK with special late night previews.
1985, Brothers In Arms by Dire Straits started a nine-week run at number one on the US album charts. The album also topped the charts in 25 other countries and went on to sell over 20 million worldwide.
1997, Oasis went to number one on the UK album chart with their third album Be Here Now. The album had sold over a million copies on the first day of release.
2007, Hilly Kristal, founder of the New York punk club CBGB died from complications arising from lung cancer at the age of 75. Kristal was credited with discovering Patti Smith and The Ramones and his club became a breeding ground for punk rock. The New York City venue, whose full title CBGB OMFUG stood for "country, bluegrass, blues and other music for uplifting gourmandisers," was originally launched to showcase country music.
Born on August 31: Roger Dean (1944) Van Morrison and Bob Welch (1945); Rudolf Schenker, The Scorpions (1948); and Glenn Tilbrook, guitar, vocals, Squeeze (1957)