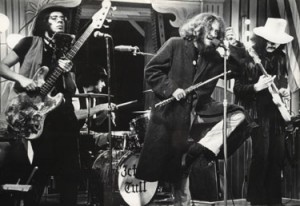 1968, A free concert was held in London's Hyde Park with Pink Floyd, Jethro Tull, Tyrannosaurus Rex and Roy Harper. This afternoon concert was the first free festival to be held in Hyde Park. The concert was held to coincide with the release of Pink Floyd's second album, A Saucerful of Secrets.
1968, The Jeff Beck Group appeared at the Boston Tea Party, Boston, Massachusetts.
1968, The Small Faces started a six week run at number one on the UK album chart with Ogden's Nut Gone Flake.  It was a concept album with a round cover designed to look like a tobacco tin.
1969, The Allman Brothers Band at played at the Armory Building in Jacksonville, Florida.
1969, American soul singer Shorty Long drowned aged 29 after his boat capsized on the Detroit River in Michigan.  He had the 1968 US number eight single "Here Comes The Judge." He acted as an MC for many of the Motown Revue shows and tours.
1969, The Jimi Hendrix Experience play their last concert together at the Denver Pop Festival in Mile High Stadium.
1969, Led Zeppelin, The Liverpool Scene and Mick Abraham's Blodwyn Pig all played two shows (5:30 and 8:30pm) at The Royal Albert Hall, London, England. Tickets from 5 to 15 shillings.
1970, The Who appeared at Merriweather Post Pavilion in Columbia, Maryland.
1971,  Yes played at the Whiskey A Go-Go in Hollywood, California
1972,  The Rolling Stones performed at Municipal Auditorium, Nashville, Tennessee.
1973, Ian Gilliam singer with Deep Purple quit the band at the end of a tour in Japan.
1974, Charles Aznavour was at number one on the UK singles chart with "She." It was the French singer's only UK chart topper. At the time it made Aznavour the oldest living male chart-topper in the UK charts, at fifty years old.
1974, Singer songwriter Gordon Lightfoot scored his only chart topping single with "Sundown." Taken from the album of the same name, it was also number one on the US album charts in late June.
1974,  Neal Peart replaces John Rustey as Canadian group Rush's drummer.
1975, In Oakland, Calif., Elton John joins the Doobie Brothers on stage to duet on "Listen to the Music." Then when the Eagles try to play their set, John crashes their party to duet on another song.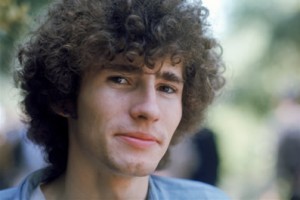 1975, American singer songwriter Tim Buckley died of an overdose of heroin and morphine aged 28. He released nine albums including the 1972 release Greetings from L.A. Buckley is the father of singer songwriter Jeff Buckley.
1976, The city of Memphis names Elvis Presley Blvd. after its most famous resident.
1977, During a North American tour Fleetwood Mac appeared at Madison Square Garden, New York City.
1977, Pink Floyd appeared at The Spectrum, Philadelphia.
1978, Peter Frampton broke his arm and cracked several ribs when he was involved in a car crash in the Bahamas.
1978, David Bowie played the first of three nights on his Low/Heroes world tour at Earl's Court in London, England.
1979, The New York Times prints an interview with Pete Townshend where he admits he has reservations about touring, but feels "fired up" about the new Who. On the same day The Kids Are Alright soundtrack is certified gold by the RIAA.
1979, American singer-songwriter, multi-instrumentalist and producer, Lowell George died of a heart attack. The Little Feat front man was found dead at the Key Bridge Marriott Hotel in Arlington, Virginia. George joined Zappa's Mothers of Invention as rhythm guitarist in 1968, but was kicked out due to recurring drug problems. He also played guitar on John Cale's 1973 album Paris 1919, Harry Nilsson's Son of Schmilsson album and Jackson Browne's The Pretender.
1980, Led Zeppelin performed at Hallenstadion in Zurich, Switzerland as part of a European tour.
1980, Roxy Music performed at Hemmerlein Halle, Nuremburg, Germany.
1981, Bob Dylan appeared at Earls Court, London.
1982, Eric Clapton played at the Lakeland Civic Center, Lakeland, Florida.
1984, Bruce Springsteen kicked off the first leg of his Born in the USA tour with a three-night run at the Civic Center in St. Paul, Minnesota. Springsteen would play a total of 156 shows ending on October 2, 1985 in Los Angeles.
1985, David Bowie and Mick Jagger recorded a version of the Martha Reeves and the Vandellas 1964 hit "Dancing In The Streets" for the  Live Aid concert. The single went on to become a number one UK hit. The original plan was to perform a track together live, with Bowie performing at Wembley Stadium, and Jagger at John F. Kennedy Stadium in Philadelphia, until it was realized that the satellite link-up would cause a half-second delay that would make this impossible unless either Bowie or Jagger mimed their contribution, something neither artist was willing to do.
1985, John Lennon's 1965 Rolls-Royce Phantom V limousine, with psychedelic paintwork, sold for a record sum of $3,006,385, (£1,768,462) at a Sotheby's auction in New York.
1991, Jason Donovan had his third UK number one single with "Any Dream Will Do," a song written by Andrew Lloyd Webber and Tim Rice for the 1968 musical Joseph and the Amazing Technicolor Dreamcoat. Donovan was playing the lead role in a new London production of the musical.
1994, Oasis made their debut on BBC TV's Top Of The Pops performing their new single "Shakermaker."
1996, Record producer George Martin received a Knighthood, also music promoter Harvey Goldsmith became an MBE, which stands for Most Excellent Order of the British Empire. That is the "order of chivalry of British constitutional monarchy," rewarding contributions to the arts and sciences, work with charitable and welfare organizations and public service outside the Civil Service. Van Morrison received an OBE,  a post-nominal for Officer of the Most Excellent, a grade in the Order of the British Empire.
2002, American singer and actress Rosemary Clooney died of lung cancer. She had the 1954 UK number one single "This Ole House," and appeared in the 1954 movie White Christmas with Bing Crosby and Danny Kaye. Her nephew, George Clooney was a pallbearer at her funeral.
2004, Courtney Love was reprimanded by Los Angeles Judge Melissa Jackson for turning up five hours late to a hearing. Love pleaded guilty to a single charge of disorderly conduct and was given a discharge, on condition she paid the victim's medical bills, joins a drug programme and stayed out of trouble.
Born on June 29: Roger Spear, Bonzo Dog Doo Dah Band (1943); Little Eva (1945); Ian Paice, drums, Deep Purple (1948); Colin Hay, Men At Work (1953); Don Dokken, American singer-songwriter, guitarist, Dokken (1953); Greg Hetson, American singer, guitarist, Bad Religion, Circle Jerks, Black President, Redd Kross (1961); Bret McKenzie, New Zealand guitarist, producer, actor, Flight of the Conchords, The Black Seeds, Wellington International Ukulele Orchestra (1976); Nicole Scherzinger, American singer-songwriter, dancer, actress, The Pussycat Dolls, Eden's Crush (1978);