The ongoing adventures of Steve Leventhal in Las Vegas 2012
Day One | Day Two |  Day Three | Day Four/Five/Six
Day Four
Finally, at long last the drought is over. Or as White Sox announcer Ken Harrelson would exclaim, "The drought is ovah."
At 1:15 PM PT, I was finally in possession of a winner's share of a prize pool. It wasn't substantial, but it was more cash than I put into the tournament.
Two things happened. First, I started to get some cards. Pocket kings fell into my lap twice, as did aces, ten, and a few ace-queens. Secondly, I didn't make any crucial mistakes, and thanks to an all in at the final table, I claimed eighth place out of 72 entrants into Planet Hollywood's morning tourney.
This tourney was going to pay nine places. When we got to the final table, everyone agreed to chip in $5 to pay the bubble boy (or girl) so they would get back $50 of the $65 entry fee. With no pressure and my stack short, I was forced to all-in, in the small blind. As I usually do, I didn't even look at my cards. The button called me with A-K, then, I flipped over my cards. It was a queen and a three. However, the dealer put not one, but two lovely ladies on the board to keep me alive. In the meantime, another player busted out, so I moved up a notch.

Two hands later, I caught a suited ace-jack. All but one player folded around to me, so I once again pushed my chips into the middle. The big blind also called. Of all the little cards out there, none was an ace or a jack. Then the big blind flips over pocket nines (again!) and out I go. I swear, those nines whacked me on at least four separate occasions. Five if you count the quad nines that crushed me on day one.
Believe it or not, I was still not through seeing nines. My last tournament foray brought me to Harrah's for their 8 PM event. Even though I got there at 7:30 all the regular seats were sold out. I settled for an alternate slot, that got me in after level four. Probably not the smartest idea, but a player who also began late, was crushing it, and had tripled his stack two positions over. Waiting for my turn to enter, I squandered away $30 at the slots and another $50 paying some 1-2 no limit.
Despite getting some small pocket pairs and a few small aces, my stack was decreasing. A player to my left with a giant stack was bullying the table, raising any time he had cards. Once, I had a pair of tens, but a king and queen showed up on the flop. Alternatively, my A-4 or A-6 found no companions, and I was forced to throw them away.
By this time the blinds were 500/1000. Everyone folded to the button, who raised to 2500 chips. I looked at my cards and saw a pair of jacks.
Mistake #1 – instead of re-raising all-in, I simply called, hoping to get more of his chips.
When the flop arrived with a nine as the high card, it was the perfect flop for my over pair.
Mistake #2 – not realizing the nine out there was trouble.
I checked. The button went all in. I called. He flips over Q-9. Of course, I mutter to myself. At least I have the best hand.
Well, that didn't last long. The very next card was a queen. His two pairs crushed me.
Small solace for the early victory. But I had made an important decision earlier in the afternoon. I decided to rent a car, and get out of Sin City.
Day Five/Six
I found out my mom and her husband were spending the weekend in Sedonna, AZ. Google maps confirmed that it was only a four and a half hour drive from Vegas, so I called them up and offered to visit for Father's day.
One Hertz rent a car later, and I was zipping off to Arizona in a shiny silver Toyota Corolla. I took my time and even stopped a few instances along the way to snap some pictures of the beautiful terrain. I even spotted a In-N-Out burger in Kingman, Arizona, which I managed to stop at on the return trip to get my double-double with cheese fix. Those of you in California, Arizona, Vegas, and Utah (and some parts of Texas I guess) don't fully appreciate what a "tasty burger" (with apologies to Samuel L.) you have there. We don't have that franchise in the Midwest, which is probably a good thing. But any trip out West usually includes a pilgrimage to In-N-Out.
I got to Sedonna by lunchtime, and had the mercury not hovered above 100 all day, we might have taken in more sights there. Sedonna and Oak Creek are renown for their red rock formations, and I sure did snap of lots of good red rock pics.
I was well fed, and even managed to be useful, helping to change some light bulbs up in their 12-foot ceilings, and also helped them with their web sites. My stepfather is writing a book on the meltdown of ethics in this country, and I got to preview a few chapters of the book.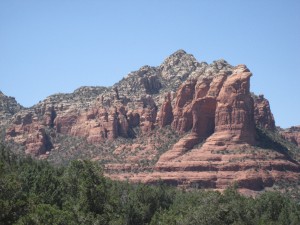 The following day, I left after an early dinner. Early by my standards, but not for the geriatric set, and once again took my time heading north on 89A towards Flagstaff. That road takes you through Oak Creek Canyon and the Coconino National Forest. Not only does it feature the red rocks, but also a ponderosa pine forest, several lakes and streams. The only bummer was that the scenic overlook had closed by the time I drove past.
The rest of the drive was uneventful. It's quiet a contrast as you leave the western part of Arizona, with it's dearth of civilization, and you come over railroad pass just over the border and see the sprawl that Vegas has become.
I was headed to the Bellagio, because one, I knew it was a good central location to ditch the car, and I wanted to place a bet on behalf of a friend who like Houston at 15-1 to win the 2013 Super Bowl. Unfortunately for him, but perhaps not his wallet, the sports book was closed for the night, as was the one at Caesar's.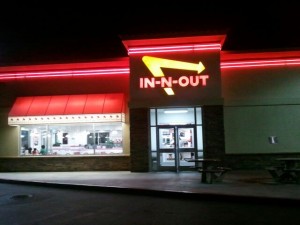 That didn't stop me from waltzing into the poker room, which is next to the sports book at Caesar's. Nowadays, just about everything is a No Limit game, so I was seated at a 1-2 table with some serious stacks.
I was strongly buoyed by the fact that my first hand was a pair of aces, followed shortly after that by not one, but two pairs of pocket kings. In a span of about 40 minutes I had parleyed my hundred bucks into three hundred. Then a good thing happened. The table broke up as several players left, and I smartly cashed out.
The bad news was that I still had nearly four hours to kill.
So, another fifty bucks disappeared at Bill's Saloon, across from Bally's, before I said enough is enough and retrieved my car and proceeded to the airport early, where the final touches are being applied to this story. I'm booked on the 6 AM back to Milwaukee, where I plan to sleep for a few days when I return home.
My tournament poker got much better even if the results don't show it. As always, I maintain a love-hate relationship with this town, and I'm sure I'll be back next year.