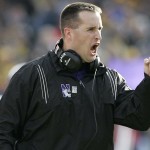 (Evanston, IL)  Northwestern Football Coach Pat Fitzgerald is cautiously optimistic optimistic as his Wildcats completed the nonconference portion of their schedule a perfect 4-0, including a 38-7 win over the MAC conference' South Dakota Coyotes on Saturday.
Previously, Northwestern had beaten Vanderbilt, Syracuse, and Boston College.  The Wildcats' 31-point margin of victory over South Dakota was the largest of the other three games combined. 
Additionally, the combination of quarterback Kain Coulter to running back Venric Mark has proven lethal. Mark  had three of the five touchdowns scored in Saturday's game, with 117 rushing yards. Treyvon Green and Tyrus Jones added one each and 45 and 42 yards, respectively.
The five rushing scores were the most by a Northwestern team since Sept. 5, 2009, against Towson. Mark went over 100 yards on the ground for the second time this season. Northwestern has now had an individual reach the 100-yard rushing plateau in three straight games, the longest such streak for NU since early in the 2007 season.
Northwestern quarterbacks completed 12-of-15 passing attempts for 131 yards, keeping NU without an interception for the fourth time in four games this season.
And the offense wasn't the only bright spot of the game. On special teams, punter Brandon Williams shined with his 56.7-yard punting average on three attempts, including a 61-yarder that pinned the Coyotes on their own 1-yard line.
With the game well in hand at 9:10 in the fourth quarter, Fitzgerald opted for a field goal instead of going for a touchdown. Fitgerald readily admitted in postgame interviews that he allowed kicker Steve Flaherty's 39-yard field goal just because he wanted to give him some time out on the field.
Despite his team's nonconference success, Fitzgerald worries about his team getting "fat and sassy," and not giving an all-out effort as they face some formidable Big 10 teams the rest of the season, including Nebraska,
And neither is the team. "It's a clean slate now," said defenseman Quentin Williams. "(A perfect nonconference record) doesn't mean much if we don't do well in conference."
Williams said that Coach Fitzgerald had brought in a Navy SEAL to help them with mental toughness. Our question was "how do you handle success?" said Williams.
When asked, Coulter said the Navy Seal taught them "to expect success. You can't get too high or too low. But expect to win games."
Northwestern takes its undefeated record into Big Ten play next week, hosting Indiana at 11 a.m. Saturday, September 29 in its 2012 conference-opener. Their first major test against a Big 10 rival comes on October 20 as the Wildcats host the mighty Cornhuskers of Nebraska.