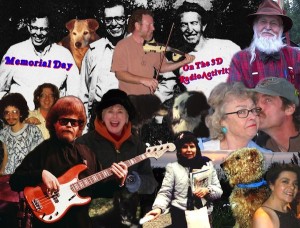 The 3D RadioActivity is commemorating Memorial Day this week with dedications from you to those we have loved and lost over the years.  Be sure to tune in to this special program as we remember all those who have crossed over the rainbow bridge to wait for us when it is our turn to join them, whether they served our country, or whether they served us breakfast, lunch and dinner.  Listeners suggested songs, so this show is all requests, featuring music that you wanted me to play for those who meant a lot to you and have passed.  Some are sentimental and touching while others are oddball and funny.  That's the way they are fondly remembered.
http://archive.org/download/The3dRadioactivity/3dradio_20120528_MemorialDay.mp3
Thanks for tuning in, everybody.
…Uncle Marty
"It's not true I had nothing on, I had the radio on."
…Marilyn Monroe
Podcast: Play in new window | Download () | Embed