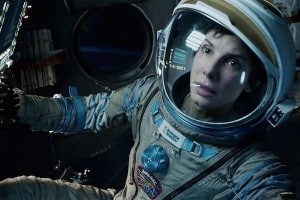 It took until the Thursday before Oscar Sunday to finally view each and every one of the Best Picture Oscar nominees.  Here are my thoughts on each of the films, and my prediction for the Best Picture winner.
In the theater, especially in IMAX, Gravity was a visual spectacle.  It certainly helps to convey the vastness of space. While the movie played out like a space television drama, and is a great vehicle for Sandra Bullock, it just didn't have the rocket power to be the best picture.  That said, it might just deliver an Oscar for director Alfonso Cuaron.
Philomena was a pleasant surprise, mostly because of the story itself, and how it played out in flashback.  Dame Judy Dench's title character is so vulnerable and yet so determined to find answers. It shows was a true range she can play, compared to the hard nosed "M" in the recent spate of James Bond movies.  Rent and watch for sure.
Perhaps an even more surprising movie was Her. It's set in  a futuristic world where a person can interact with their operating system. This is no Siri on steroids, this was full blown artificial intelligence voiced by Scarlet Johanssen. What's not to love. I heard an interesting comment from someone who'd also seen it. She didn't like the fact that it portrayed all these people who spent time on their devices and didn't interact with others.  I wanted to tell her to just look around. It's already happening.  That is what good science fiction does. It takes our current conditi0ns an plays it out to extremes. In addition, the film is shot with very stylistic scenes in which Joaquin Phoenix's character might be wearing a red shirt, as there is a red colored panel on the wall, as well as some red hues in the background. Similarly, if he wore orange, the same effect would played out in that color.  Very thought provoking.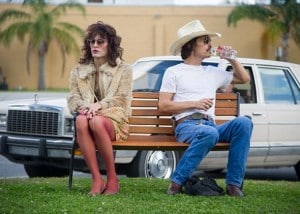 Dallas Buyer's Club is an gut wrenching portrayal of one man's quest to bypass the lengthy and allegedly roadblocked FDA = approval process to obtain AIDS medication.  It is a grim portrayal of the early eighties when not enough was known effective treatments for the assorted maladies afflicting HIV positive people.  Matthew McConaghey may well take home a gold statuette for his portrayal of Ron Woodruf, the real life protagonist of this story.  Jered Leto is a lock to win Best Supporting Actor for his role as Rayon a transvestite who shares  Woodruf's entrepreneurial venture to procure unapproved medications from Mexico or anywhere they can be found.  Ironically Rayon is not a real person, but a composite of several individuals involved in the real story.  It was a top notch ensemble effort, but not the strongest movie in my view. An interesting note, White Sox 1B and DH Adam Dunn invested in the movie, and has a cameo as well as bartender Neddie Jay.
Nebraska had the stark look I've out most window all winter – gray and white.  Bruce Dern gives one of the performances of his career. While I'll always be partial to his turn as Freeman Lowell in 1972's Silent Running, he is terrific as Woody Grant, a slightly demented old coot, who's convinced his Publisher's Clearing House-type letter is a million dollar winner.  His son, who's at wits end, as the old man tires attempts his own aborted journeys to recoup this alleged prize, finally takes him on the road to Lincoln, Nebraska. They are forced to detour through Woody's hometown where he becomes a local celebrity.  June Squibb, who plays Woody's wife Kate steals the movie.  Her character's unfiltered commentary and background tales are hilarious. She deserves a Best Supporting Actress award, but probably won't get it.
Captain Phillips is the finally movie I saw to complete the 2014 movie bucket list.  Despite knowing the outcome of the story, I was on the edge of my seat during the Somali pirate takeover of the ship, and the rescue by the Counter-Piracy Task Force and the Navy SEALs. The pirates are amped up on khat, a plant that when chewed gives them amphetamine fueled euphoria and energy.  It seems that at any minute they could execute one of the hostages in an incredibly tense drama.  Somali-American  Barkhad Abdi might have basked in Supporting Actor gold, if not for Leto's performance.
12 Years A Slave is another powerful depiction of the most embarrassing epochs of American history. However, I still think that Roots, the 1977 television miniseries was a far more provocative, emotional, and memorable representation of slavery.  Chiwetel Ejiofor was great as Solomon Northrop, a free black man kidnapped into the slave trade.  But I am old enough to remember seeing Lavar Burton's turn as Kaunta Kinte. Maybe it's not fair to compare an eight hour television drama with a two-hour movie, but nearly forty years after Roots was televised on ABC, I can still visualize the heartbreak of that program.  I would have preferred to see a little more of Northrup's "escape" and subsequent efforts to bring his kidnappers to justice.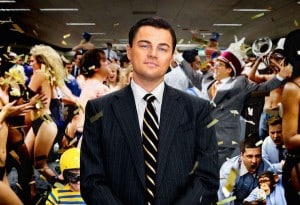 There no doubt in my mind, the best movie of 2013 I saw was The Wolf Of Wall Street. Yet another movie based on a true tale. This is an epic movie of greed and corruption on a ridiculous scale.  If I didn't know that the rise and fall of stockbroker and swindler Jordan Belfort was true, I wouldn't have believed such debauchery could take place.  Yet, Leonardo DiCaprio proves once again why he is one of the best and brightest actors in Hollywood.  Leo is in virtually every scene in this three hour epic adventure.  The action is non-stop plays the drug addled, lecherous, conniving Belfort to a tea. DiCaprio deserves his first Oscar for Best Actor, but he faces stiff competition from McConaghey and Ejoifor.  Some voters may be turned off by all the drug consumption and womanizing on screen, but his performance is so electric, especially a scene where he takes too many Quaaludes and is literally crawling on the ground, barely able to speak.
American Hustle was the early front runner for Best Picture. I remember well the Abscam scandal that broke in the early '80s and resulted in the convictions of several politicians.  David O. Russell teamed up again with Bradley Cooper and Jennifer Lawrence to recreate the era of dangling gold jewelry and plunging necklines.  As far as an ensemble cast, this is it, with Amy Adams, Jeremy Renner, and Christopher Nolan give five solid gold performances in this movie.  Lawrence also has a chance to win Best Supporting Actress, but the trajectory of Lupita Nyong'o in 12 Years has been on a rocket rise lately. The safe bet says that Hustle wins, but 12 Years is hot on its heels.
Catch the Oscar telecast on ABC Sunday night.