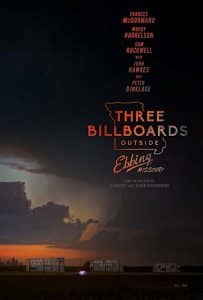 I finally watched Phantom Thread. It was was the last of the nine nominees for the 2018 Best Picture Oscar that I viewed.  There were only three days to go, but I concluded my annual tradition of screening all the contenders for Oscar's top prize.
So here goes my analysis of this horse race.
Darkest Hour and Dunkirk are among my longshots.  Great historical drama, Darkest Hour provides the lead up to the evacuation at Dunkirk. While Dunkirk is excitement in droves, and was incredible on the big screen, it reminds me of those grand old war dramas like Tora, Tora, Tora, Battle of the Bulge, or A Bridge Too Far.  Good stuff, just not good enough.  Darkest Hour features a fabulous performance by Gary Oldman as Winston Chruchill, and will probably snag him a Best Actor nod, but it plays out rather slowly, with no major drama.  The best thing to do is watch those two films back to back, beginning with Darkest Hour. (odds 10-1)
The Post must have been nominated due to its director (Speilberg) and cast (Hanks, Streep).  If you want a thrilling, dramatic 1970's investigative journalism, watch All The President's Men.  (15-1)
Phantom Thread shows why Daniel Day-Lewis is one of the best actors of his generation. His commanding presence in every scene, he embodies the character Reynolds Woddcock, a leading  dressmaker in 1950's England. To borrow from the band Queen, he is "fastidious and precise", driven, always working, even on New Year's Eve. And if he's not actually working, he is thinking about work constantly. The film depicts how he finds his muse, and her strong willed determination to rattle his meticulously crafted world.  If the setting had been the late 1800's or early 1900's it might have been more of the period piece that Oscar loves.  Not this time.  (9-1)
Get Out can best be described a mashup of Guess Who's Coming to Dinner and a two-hour episode of the Twilight Zone. It is a dark comedy, literally, playing on stereotypes, but them morphing into something all together different. It was fun, enjoyable, and shocking. I don't want to spoil it, because it was definitely not what I expected, but certainly a fun watch.  (6-1)
Call Me By Your Name is based on the novel of the same by André Aciman. It is set in northern Italy in the early 1980's, where an seventeen year-old Elio spends the summers and winters with his academic parents in their 17th century villa. Elio is portrayed incredibly by Timothée Chalmet, who speaks English, French, and Italian in the film, as well as plays classic piano in several scenes that are not faked. He flirts with a local girl, but ultimately falls for Oliver, a graduate student, working as a summer intern, for his father.  Armie Hammer adds plenty of eye candy as Oliver, often seen in short shorts, and shirtless.  This movies takes forever to play out, and I suspect some may not make it past the halfway point, if watching anywhere other than in the theater.  All the language changes made my head spin, and the romance between the men can be a bit squeamish for straight guys like me (I'm trying to keep a modern perspective,  I swear.) Great soundtrack, a mix of classical music and pop songs from 1983.   (6-1)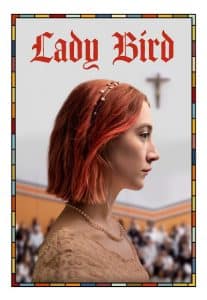 Chalmet who should be a serious candidate for Best Actor, also appears in another nominated flim, Lady Bird. This is another coming of age story, this time set in the early 2000's Sacramento. Soarise Ronan plays Christine "Lady Bird" MacPherson, loosely based on actress Greta Gertwig own experiences in an all girls Catholic high school.  The film follows Lady Bird goes through her first romance, tries to get more involved in school activities such as school play, her changing friendships, and applying to college.  A lot of the movie's tension revolves around her relationship with her strong-willed mother, played by Laurie Metcalf, who along with Allison Janey has a great shot at Best Supporting Actress. Anyone who ever felt like an outcast in high school can totally relate to this movie.  A great story, it was my favorite until I saw Three Billboards. (4-1)
Three Billboards Outside Ebbing, Missouri is the directorial debut from screen writer Martin McDonagh.  He was inspired to create this fictional story after seeing billboards about an unsolved murder while traveling in the southern US.  In this story, Mildred Hayes (Frances McDormand) makes an unusual public play by taking out several billboards to call out the local police department. Her target is it's beloved chief Willoughby (Woody Harrelson) for failing to solve the rape and murder of her daughter months earlier.  It's a very dark and somewhat humorous film, reminiscent of just about any Cohen brothers movie. If there were an Oscar for ensembles, this would win hands down. Sam Rockwell is a scene stealer as the racist deputy, and the movie epitomizes the law of unintended consequences.  I think it's the best picture, but for the reasons below, it probably won't win. (3-1)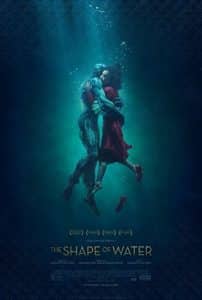 The Shape of Water is the kind of film that Oscar loves. It is a period piece. It has fantasy sequences, a haunting score, a love story, and true to a Guillermo del Toro work, a monster.  Set in a secret military lab in early 1960's Baltimore, it follows a mute cleaning lady/janitor who seems to be the only person who can communicate with a creature culled from the Amazon jungle.  In typical us versus them mentality, the government goons refer to the creature as the "asset."  They torture it, and try to learn with little or no regard for the asset itself. This is set against the backdrop of the Cold War, where the Russians are equally interested in the creature for their own purposes.  Sally Hawkins gives a career defining performance as Elisa, the mute protagonist whose routine is turned upside down when she figures out the creature can understand her sign language.  Michael Stuhlbarg, whose agent deserves an award for casting him in not just this movie, but also Call Me By Your Name, and The Post, is one of the scientists who comes to Elisa's aide, along with Zelda (Octavia Spencer) and Giles (Richard Jenkins) in an elaborate scheme to kidnap and extricate the creature from the highly secure facility.  (5-2)
I've actually watched Shape twice, and it's a fabulous film. It will probably win Best Picture, even though I personally think Three Billboards was overall a better movie.  You can't go wrong with either, and it should make for a dramatic awards night.  Enjoy.