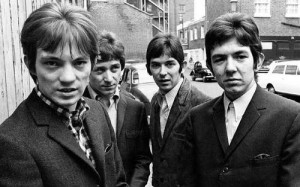 1967, The Small Faces entered the singles chart with "Itchycoo Park." The song, written by Steve Marriott and Ronnie Lane, was released on August 4th, and peaked at number three in the UK and at number 16 in the US the following year.
1967, The Who play Maple Leaf Gardens in Toronto.
1967, Scott McKenzie was at number one on the Record Retailer UK singles chart with "San Francisco (Be Sure To Wear Some Flowers In Your Hair.)" The singer's only UK Top 40 charting hit was written by John Philips of Mamas & Papas.
1968, Janis Joplin performs at Kiel Auditorium in St. Louis, Missouri.
1968, At 2 o' clock in the morning, after the other Beatles had gone home for the evening, Paul McCartney stayed behind and recorded "Mother Nature's Son," in 25 takes at Abbey Road studios. The song was included on the White Album.
1968, Pink Floyd played the first of three nights at Eagles Auditorium in Seattle, Washington. They were supported by Blue Cheer, with lights by the Retinea Circus Light Company.
1968, James Brown & the Famous Flames appeared at Balboa Stadium, San Diego, California.

1968, Jerry Lee Lewis, Marmalade, Taste, The Herd, and Timebox performed on the first day of the three-day National Jazz & Blues Festival, Kempton Park Racecourse, Sunbury On Thames, England. The festival was the precursor to the Reading Rock Festival and was the created by Harold Pendleton, the manager of the prestigious Marquee Club in Soho.
1969, During a North American tour Led Zeppelin appeared at the Anaheim Convention Center in Anaheim, California. Jethro Tull, who opened for the band, were at number one on the UK album chart with their second release, Stand Up.
1970, New Musical Express prints Roger's rebuttal to Pete's remarks in his interview of May 31st. Roger doesn't hold back: "I never read such a load of bullshit in all my life." He also adds that Pete, "talked himself up his own ass." To Pete's charge that Roger thought rock 'n roll was just "making records, pulling birds, getting pissed and having a good time," Roger counters that the last few bad gigs The Who had done was because Pete, John and Keith had been "…out boozing and balling all night and by the time it got to the show at night they were physically incapable of doing a good show." The interview later appears in Creem magazine in the US.
1970, The Allman Brothers Band played at the Drive-In Theater in Collinsville, Virginia. About 200 fans were in attendance on a rainy night.
1971, King Crimson performed at the Marquee Club, London.
1971, The Who play the War Memorial Auditorium in Rochester, New York.
1973, Guitarist Henry McCullough and drummer Denny Seiwell leave Wings.
1975, The Bee Gees started a two week run at number one on the US singles chart with "Jive Talkin'," the group's second chart topper.
1975, Major Promoter Don Kirshner, holds the first Rock Music Award Show in Santa Monica, Calif. Among the winners include the Eagles, Bad Company, and Stevie Wonder.
1976, Aerosmith appeared at the Springfield Civic Center, Springfield, Massachusetts.
1978, Bruce Springsteen played the Agora Theater in Cleveland on his Darkness tour. A well known show, and bootlegged extensively.
1980, Abba scored their eighth number one single with "The Winner Takes It All." Taken from their Super Trouper album. By this time, both couples were divorced.
1980, AC/DC scored their first number one album with Back In Black. It was the first AC/DC album recorded without former lead singer Bon Scott, who died on February 19, 1980 at the age of 33, and was dedicated to him. Scott, passed out after a night of heavy drinking in a London and was left to sleep in a car owned by an acquaintance. The album has sold an estimated 50 million copies worldwide to date, making it the second highest selling album of all time, and the best selling hard rock or heavy metal album, as well as the best selling album ever released by a band.
1986, Queen ended their Magic European tour at Knebworth Park, Stevenage, England, with over 120,000 fans witnessing what would be Queen's last ever live performance. On this, their final tour, Queen played to legions of established fans, plus many new ones gained as a result of their show-stealing performance at Live Aid the previous year. The support acts were Belouis Some, Big Country and Status Quo.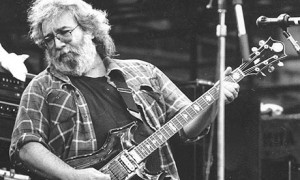 1995, Jerry Garcia guitarist and singer from The Grateful Dead dies at the Serenity Knolls rehabilitation clinic in San Francisco aged 53. Garcia was found dead in his room at the clinic. The cause of death was a heart attack. Garcia had long struggled with drug addiction, weight problems, sleep apnea, heavy smoking, and diabetes, all of which took a toll on his physical condition.
2007, Amy Winehouse cancelled a series of European shows after being admitted to hospital suffering from "severe exhaustion." The 23-year-old singer was taken to University College London Hospital and later discharged.
2007, Baltimore's mayor Sheila Dixon proclaimed today as the city's official Frank Zappa Day, citing Zappa's musical accomplishments as well as his defense of the First Amendment to the United States Constitution
Born on August 9: Billy Henderson, American singer, The Spinners (1939); Vic Prince, Pretty Things (1944); John Parry, Bonzo Dog Doo Dah Band (1946); Pete Thomas, English drummer, Elvis Costello and The Attractions (1954); Whitney Houston (1963); Sam Fogarino, American drummer, Interpol and Magnetic Morning (1968); Yekaterina Samutsevich, Russian singer and activist, Pussy Riot (1982)