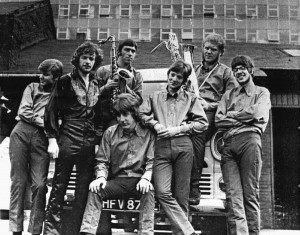 1967, Singer Ian Anderson forms Jethro Tull with his former John Evans Blues Band mate, bassist Glenn Cornick, in Blackpool, England. The name comes from an 18th century farming tool inventor. John Evans later joins the group as a keyboardist.
1967, The Hollies release their hit single "He Ain't Heavy (He's My Brother.)"
1967, Folk singer Joan Baez was sentenced to 45 days in prison after being arrested during an anti-war demonstration.
1967, Pink Floyd were at the Maida Vale Studio 4 for a taping of the BBC show Top Gear. That same day, the band also made it to Studio 2, EMI Studios, Abbey Road for a recording session for the album A Saucerful of Secrets.

1968, The Beatles sixth Christmas record "The Beatles' 1968 Christmas Record," was sent to fan club members in the UK and the US. It included the song 'Nowhere Man' sung by Tiny Tim.
1968, Pink Floyd were at the BBC Paris Cinema, on Lower Regent Street in London to record a live audience show for BBC Radio One. The songs performed were: Let There Be More Light, Set The Controls For The Heart of The Sun, Point Me At The Sky, and Careful With That Axe, Eugene.
1969, Peter Paul and Mary went to number one on the singles chart with 'Leavin' On A Jet Plane'. John Denver wrote the song in 1966 with the original title of 'Oh Babe I Hate to Go.'
1969, The Grateful Dead performed at the Fillmore Auditorium in San Francisco.
1969, The Rolling Stones went to number one on the album chart with their tenth release Let It Bleed, featuring 'Midnight Rambler', and 'You Can't Always Get What You Want.'
1973, American singer Bobby Darin died aged 37. One of the first teen idols, he had the 1959 number one with "Dream Lover" plus 20 other Top 40 hits during the 60's including "Mack the Knife," Grammy Award for Record of the Year in 1960. Darin traveled with Robert Kennedy and worked on the latter's 1968 presidential campaign. He was with Kennedy the day he traveled to Los Angeles on June 4, 1968 for the California Primary. Darin was at the Ambassador Hotel later that night when Kennedy was assassinated.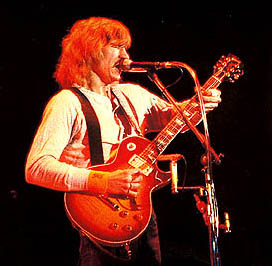 1974, Former James Gang guitarist Joe Walsh officially replaced Bernie Leadon in The Eagles.
1980, Twelve days after John Lennon was shot dead in New York City, '(Just Like) Starting Over', which was taken from his Double Fantasy album gave the former Beatle his first ever solo No.1 single.
1986, The Bangles started a four week run at No.1 on the US singles chart with 'Walk Like An Egyptian.'
Born on this day: Bobby Colomby, drums, Blood Sweat & Tears (1944); Peter Criss, Kiss (1947); Alan Parsons (1948); Billy Bragg (1957); and Chris Robinson, The Black Crowes (1966)