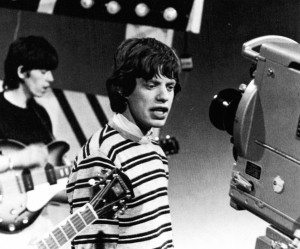 1965, In their Clearwater, Florida hotel room, Mick Jagger and Keith Richards worked out the opening guitar riff of "Satisfaction," following Richard's purchase of a Gibson fuzz-box earlier that day.
1966, The Who appeared at the Top Hat Ballroom in Lisburn, Northern Ireland.
1966, Working at Abbey Road studios in London, The Beatles recorded overdubs on "I'm Only Sleeping" and worked on various mixes of the track.
1966, During a four month world tour, Bob Dylan played the first night of eleven UK dates at the ABC in Belfast, Northern Ireland.
1967, Jimi Hendrix, The Walker Brothers, Engelbert Humperdink and Cat Stevens all appeared at the Imperial Ballroom, Nelson, Lancashire, England.
1967, The Who's Keith Moon gives an interview in which he advises, "To get your playing more forceful, hit the drums harder."
1967, Otis Redding played at the Civic Center in Charleston, West Virginia.
1967, Pink Floyd performed at Kitson Hall in Leeds, West Yorkshire, England.
1968, Pink Floyd, The Move, The Nice, and The Association played at the First European International Pop Festival, Palazzo Dello Sport, Rome, Italy.
1969, King Crimson appeared at Maida Vale Studio, London.
1970, The Grateful Dead played at Kresge Plaza on the MIT campus in Cambridge, Massachusetts.
1971, Ike & Tina Turner are awarded a gold disc – the only one they ever received – for their recording of "Proud Mary."
1972, The Tyrannosaurus Rex double album Prophets, Seers And Sages And The Angels Of The Ages / My People Were Fair And Had Sky In Their Hair But Now Their Content To Wear Stars On Their Brows went to No.1 in the UK. The longest title of an album ever at the time!
1973, Paul Simon set out on his first tour without partner Art Garfunkel, using The Jesse Dixon Singers as a backup group on stage. Simon's tour of America and Europe was recorded and released as Live Rhymin.
1975, Rush played at the Riverside Theater, Milwaukee, Wisconsin.
1976, The Bee Gees announce a series of benefit concerts for UNICEF at a United Nations press conference.
1976, The Rolling Stones appeared at Forest National, Brussels, Belgium.
1977, The Boomtown Rats played their first gig in England when they appeared at Studio 51, London.
1977, REO Speedwagon performed at Cobo Arena, Detroit, Michigan.
1978, The soundtrack to Saturday Night Fever started an 18 week run at No.1 on the album chart, The album, which features seven Bee Gees songs, went on to sell over 30 million copies worldwide.
1979, Yes played at Spokane Arena, Spokane, Washington.
1980, Van Halen appeared at the Rochester Community War Memorial, Rochester, New York.
1981, Dire Straits performed at Rhein-Main-Hall, Wiesbaden, Germany.
1995, Oasis scored their first UK No.1 single when "Some Might Say" went to the top of the UK charts. It was the first single to be released from the Manchester bands second album (What's the Story) Morning Glory? And the last Oasis track to feature original drummer Tony McCarroll.
2004, A sale at Christie's in London, England became the most successful pop auction in the company's history after Beatles memorabilia sold for a record £788,643. The auction included a leather collar worn by John Lennon which sold for £117,250. A signed copy of a management deal with The Beatles and manager Brian Epstein sold for £122,850. A Vox Kensington guitar used by Lennon and Harrison went for £100,000. Also sold, a coloured felt-pen drawing by Lennon (£10,000), a letter with his signature (£5,500), and a pen-and-ink drawing called Happy Fish (£9,500).
2006, During a UK tour, Morrissey played at The Apollo Manchester on the first of three nights at three different venues in his home city of Manchester. The singer then appeared at Manchester Opera House the following night and then at Manchester Bridgewater Hall on the 8th May.
Born on this day: Bob Seger (1945); Robbie McIntosh, Average White Band (1950); and John Flansburgh, They Might Be Giants (1960)