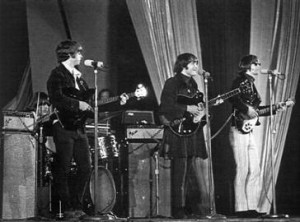 1966, The Byrds played the first of an eleven-night run at the Whisky A Go-GO in Hollywood, California.
1967, David Bowie released the single "Love You Till Tuesday" which failed to reach the charts.
1967, The four Beatles held a meeting at Paul McCartney's house in London to decide upon their next course of action following the death of manager Brian Epstein. They decide to postpone their planned trip to India and to begin the already-delayed production of the Magical Mystery Tour movie. They have two songs already recorded for the movie, "Magical Mystery Tour" and "Your Mother Should Know."
1967, Boz Scaggs returned to the US from Europe and rejoined Steve Miller's band. The pair had played together as teenagers, after which Scaggs left for Europe and recorded the solo album, Boz. Scaggs appeared on Miller's Children of the Future and Sailor before going solo for good.
1969, The Grateful Dead performed at the International Raceway, Baton Rouge, Louisiana.
1970, Led Zeppelin appeared at Key Arena in Seattle, Washington.

1971, Hawkwind performed at Powis Square, London.
1972, David Bowie played at Top Rank Suite, Doncaster England.
1973, Elton John and Steely Dan appeared at the Balboa Stadium, San Diego, California.
1973, John McLaughlin & Carlos Santana performed at the Chicago Amphitheater, Chicago, Illinois.
1974, Aerosmith performed at the Cape Cod Coliseum, South Yarmouth, Massachusetts.
1975, The J Geils Band play Maple Leaf Gardens, Toronto, Ontario.
1976, Ode Records president Lou Adler and employee Neil Silver were kidnapped at Adler's house in Malibu. The two were released after paying a $25,000 ransom. A week later, a California couple were charged with the crime, but a third accomplice got away.
1976, Wish You Were Here was close to spending one year on the UK album charts. Pink Floyd's ninth studio had been premiered at Knebworth in July 1975, and was released in September that year. It was an instant success, with record company EMI unable to press enough copies to satisfy demand. The artwork for the album package was once again created by the Hipgnosis team, who created a series of images based on "absence" and "unfulfilled presence" including the empty gesture of a handshake between two men dressed in business attire, one of whom is on fire, along with a veil concealing a nude woman in a windswept Norfolk grove, and a splash-less diver at Mono Lake in California.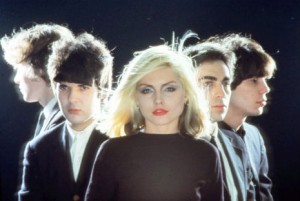 1977, Blondie, featuring former Playboy Bunny Debra Harry, signed their first major record company contract with Chrysalis Records.
1979, U2 released their very first record, an EP titled U2-3.
1980, Stevie Wonder played the first of six sold out nights at Wembley Arena.
1980, Fleetwood Mac ended a nine-month world tour with a performance at the Hollywood Bowl. Lindsay Buckingham announced on stage, "This is our last show for a long time."
1983, Mick Jones, lead guitarist with The Clash was fired by the other three members who claimed he had "drifted apart" from the original idea of the group.
1984, After a 25-year career, Tina Turner had her first solo number one single in the US with "What's Love Got To Do With It." This song was originally written for Cliff Richard, however the song was rejected. It was then offered to Donna Summer, who has stated she sat with it for a couple of years, but never recorded it.
2002, Coldplay scored their second UK number one album with A Rush Of Blood To The Head. The album won the band the 2003 Grammy for Best Alternative Album for the second time in a row, and the 2004 Grammy for Record of the Year for the song "Clocks."
2005, Barry Cowsill, bass guitarist for The Cowsills, died from injuries caused by Hurricane Katrina. His body was not recovered until December 28th, 2005, from the Chartres Street Wharf, New Orleans. He was 51.
2012, songwriter Hal David, who wrote dozens of hits with collaborator Burt Bacharach, died in Los Angeles at the age of 91, from complications from a stroke. David and Bacharach wrote a string of hits for Dionne Warwick, including "Walk On By" and "I Say a Little Prayer," as well as other artists including Tom Jones and Dusty Springfield.
Born on September 1: Tommy Evans, The Drifters (1927); Conway Twitty (1933); Archie Bell, The Drells (1944); Barry Gibb (1947); Bruce Foxton, bass, vocals, The Jam (1955); and Gloria Estefan (1957)