It's a great one from Aretha Franklin..Please check out her and some sax by the late Clarence Clemons on this one.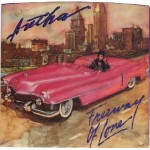 Click the album cover to play.
Aretha Louise Franklin (born March 25, 1942) is an American singer, songwriter, and pianist. Although known for her soul recordings and referred to as The Queen of Soul, Franklin is also adept at jazz, blues, R&B, gospel music, and rock. Rolling Stone magazine ranked her atop its "100 Greatest Singers of All Time" list,[1] as well as the ninth greatest artist of all time. She has won 18 competitive Grammys and two honorary Grammys. She has 20 No.1 singles on the Billboard R&B Singles Chart and two No.1 hits on the Billboard Hot 100: "Respect" (1967) and "I Knew You Were Waiting (For Me)" (1987), a duet with George Michael. Since 1961, she has scored a total of 45 Top 40 hits on the Billboard Hot 100. Between 1967 and 1982 she had 10 No.1 R&B albums—more than any other female artist. In 1987, Franklin became the first female artist to be inducted into the Rock and Roll Hall of Fame.
Podcast: Play in new window | Download () | Embed