The Weekend Sports Report is hosted by "Packer" Dave Rusch and Steve Leventhal.
The Weekend Sports Report presents guests from around the world of sports. Our focus is Chicago, the Midwest, and stories our listeners want to hear about.
The Weekend Sports Report takes you inside the locker room with audio from the top players and coaches.
Show Archives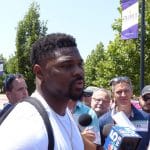 with Packer Dave and Steve Leventhal
Dave and Steve are joined by Jeff Rich to discuss the start of training camps for the 2019 season NFL. We talk Green Bay Packers, Chicago Bears, Cleveland Browns, and Arizona Cardinals, and more. Also covered are updates on the Chicago White Sox, Chicago Cubs, and Milwaukee Brewers.
Featuring audio from Packer GM Brian Gutekunst, coach Matt LaFleur, along with Chicago Bears players Khalil Mack, Tarik Cohen, and Mitch Trubisky. Don't miss cameos from Chris Berman and Bob Uecker.
Podcast: Play in new window | Download (Duration: 38:37 — 35.4MB) | Embed