From Chicago, Arizona, Toronto, and around the world: The Sports Report

Dave, a lifelong Packer Fan and radio veteran hosts a weekly program about the Bears, Packers, Vikings, and Lions, where it's a showdown each week with the teams vying for playoff status. The program has been on the air since 1993 through various name changes and participants. Currently, SRN Broadcasting's Steve Leventhal serves as co-host and producer. They deliver the premier program covering the NFC North, featuring interviews with players and coaches. In addition, a variety of guests from throughout the sports world give us their take on the NFL, MLB, NBA, NHL, college, golf, soccer and more. Dave's other claim to fame is an uncanny resemblance to Charlie Sheen, which allowed him to be Charlie's photo double on two very unmemorable films: No Code of Conduct (1998) and Five Aces (1999).
New shows are posted every Thursday afternoon.
The Sports Report with Packer Dave
along with Steve Leventhal, Jeff Rich, and John Poulter. Our guest Ryan Leong, who covers sports for AP in the Bay Area joins us to preview the 2018 NBA Finals. Steve and Dave discuss the Bears offseason training camp. Cleveland native Jeff also chimes in on the NBA Finals. Lastly, John covers the NHL Stanley Cup Finals as well as updates us on Major League Baseball and European soccer.
Hear audio from Bears coaches Matt Nagy and Vic Fangio, plus Lars Eller of the Washington Capitals. Don't miss a cameo from Packers broadcaster Wayne Larrivee.
Podcast: Play in new window | Download (Duration: 44:45 — 41.0MB) | Embed
But first, a little history lesson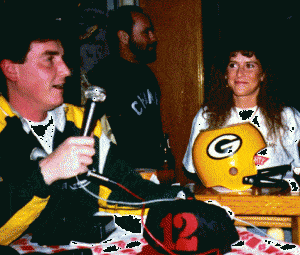 The program began inauspiciously in the fall of 1993, when our own "Packer" Dave wanted to add a wide-open, no holds barred sports talk show. Due to his limited, feeble sports upbringing in Wisconsin, the best he could do was a Packer Football talk show. Given the alternative of Dave spewing about the Packers for a whole hour, a few Bear fans were rounded up to present the opposing view. After a few weeks of trying out various combinations, it became obvious that Len Ackerman and Steve Kohn were the best that the Windy City could offer.  A former Bear wide receiver who shall remain nameless was also a regular during the first season. Lastly former SRN sport director Bob Greenberg was brought in to set he record straight on the arguments that took place on nearly every episode.
Those early days were affectionately known as the "Wonder Years" because when listening to tapes of those old programs, we wonder how we managed to stay on the air. Actually, we were kicked off of our affiliate in Fond du Lac, Wisconsin, because a former Chicago Bears player accidentally dropped an "F-bomb" on live radio (with no delay.)  Apparently, they weren't quite ready for this kind of humor, even at 10:30 at night.
Undeterred by the critics, bad production values, and lame jokes, the show built a following.  Stations in Illinois, Iowa, and Wisconsin continued to carry the program.  Then an amazing thing happened – the Internet.  Suddenly, crazed and depraved Bears and Packers fans across the globe could hear three knuckleheads droning on about the best rivalry in professional sports.
Ch-ch-ch-changes…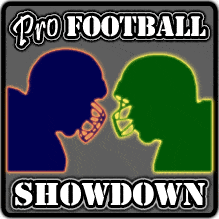 The show endured the departure of Kohn to pursue a real job, Bob Greenberg's retirement, and the original producer fled the continental US before the federal marshals could serve him. In addition, a certain football team based in Lake Forest, Illinois objected to the program name, so it was re-christened as "The Pro Football Showdown."  Veteran Chicago sportscaster Les Grobstein stepped in as the new sports savant.  Dave and Len remained from the original cast, and Steve Leventhal took over on sound effects, and as the studio engineer.
The "Bears-Packers Showdown" and "The Pro Football Showdown" were thrust upon unsuspecting ears off and on for sixteen years. In the last five years it was often in doubt that program would return for the following season.  However, a small group of hard core fans kept lobbying the producers, and a few naive radio stations continued to carry the show.  Finally, after years of bickering, backstabbing, and mocking, as well as lack of funding, the show died of unnatural causes in 2009.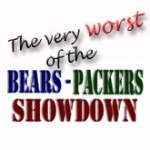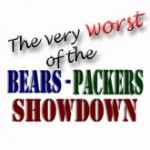 Despite the stupidity, nonsense, crazy sound effects, and general unprofessionalism on display, people kept listening, turning it into a bit of a cult favorite.  For reasons beyond our comprehension, you the fans have asked to replay some of the more memorable episodes.
Therefore, we present to you:  The very worst of the Bears/Packers and Pro Football Showdown.
with Packer Dave, Steve Leventhal, and John Poulter
Happy Thanksgiving to all. We have a quick roundup of the weekend games in the NFL. Also we'll go back in time with two vintage interviews from the archives.  Steve talks with Bears Hall of Fame linebacker … (read more…)
Podcast: Play in new window | Download (Duration: 59:53 — 54.8MB) | Embed