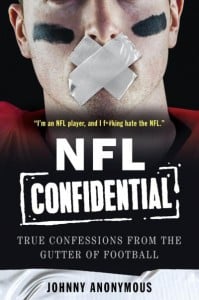 on the Weekend Sports Report with Packer Dave and Steve Leventhal
….Jeff Rich joins us to preview the 2016 AFC and NFC Championship games. We also have as a guest a current NFL player who has authored a tell-all book about life in the National Football League.  Unlike a typical memoir, loaded with whitewashed anecdotes and cute stories, this is a no holds barred, real world look inside the daily life of an offensive lineman playing right now. It's so explosive, he uses the pen name "Johnny Anonymous" and disguises his voice for interviews. No topic is off the table in this wide ranging interview.
Lastly, John Poulter brings us up to date on what's going on in the NHL and the English Premier League.
Hear interviews from Peyton Manning, Tom Brady, Greg Olsen, and Larry Fitzgerald.
Don't miss a cameo from Bob Costas of NBC.