I'm your Uncle Marty, this is The 3D RadioActivity, adventure 593 as we wrap up our Memorial Month Testimonial or Eulogy to many of the biggest names in music who have gone on to their final and just rewards over the past year.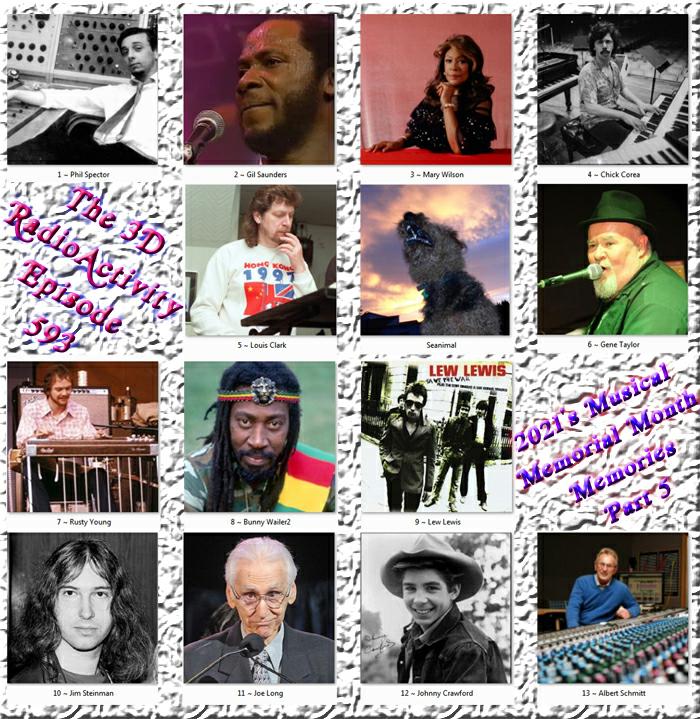 That concludes our tuneful testimonial to over seventy music artists who have checked out of this mortal coil for the next plane of existence. Heart issues and Cancer took over 40% of them, Corona Virus was responsible for more than 1 in 10 while the average age was 76 years so most of them did lead a long and full life. We will be back next week with our usual Summertime Seconds where we revisit previous features to play music that has not been heard on the program before, as that's the way we roll. If you have any ideas or suggestions, then tell me by sending email or message me on our Facebook page where you can give us a like and where there's links to the archives of all the earlier episodes and airedorable artwork in the photo section. Daytona wants to remind everyone to look for us on Denver's  MileHiRadio,  Theacidflashback , TuneIn and InternetFM dot com, because the best FM radio is now on the Internet.  
Until we meet again, Keep Rockin' On!
"It's not true I had nothing on, I had the radio on."
…Marilyn Monroe