Join the flock. Catch this high energy jam band on a cross country tour starting in March.
Founder/ lead vocalist/ rhythm guitarist Ormont zoomed in for a one-on-one interview before he and his band mates head out this spring for a national tour.
The first time I saw Greg and the rest of the Pigeons was a mid-summer opening slot for Umphrey's McGee in Chicago. The brief 45-minute set piqued my interest, and when Greg told the crowd they'd be back in Chicago in September, I penciled in the date. That packed show at Bottom Lounge made me a convert to "The Flock," as the band's fans are called. Two sets, and nearly three hours later, Ormont, guitarist Jeremy Schon, bassist Ben Carrey, and drummer Alex Petropulos were still going strong. Ormont's exuberance and stage gyrations would make even Mick Jagger stop and catch his breath.
This March through July, the Pigeons are heading out on the road, starting in Texas, then on to Arizona, California, Nevada, and up the west coast, before returning back East. They are also playing the festival circuit with stops at Summer Camp, Bonaroo, High Sierra, and their own Domefest. This grand sojourn culminates in July at the 4848 Festival in Showshoe, WV.
Coming off the pandemic we are so, so grateful to be playing live again. The feeling has been missed and appreciated.

-Greg Ormont, Pigeons Playing Ping Pong.
Ormont was kind enough to take time out or a wide ranging interview (listen to the audio below) where he talked about a number of topics, ranging from their origins at the University of Maryland in 2006, and how they went from playing in the college dorms to a basement, a "cold garage" then to friend's house parties, local bars, and the neighboring college, and finally working the east coast concert circuit. Also discussed was the new album coming out in April, some of which was recorded with collaborations from guest musicians working remotely, and Greg told me about some of the fellow jam bands he's supporting. I also inquired about Domefest, the band's "heart and soul," a festival taking place in Thornville, Ohio.
"What sets Domefest apart," notes Ormont, "is that we as the band organize the festival, so we've been to countless events and we know what we like and we know what wasn't so great. So we try to put on an event that reflects our tastes and what makes us comfortable at festivals. It really just creates a nice family atmosphere. The people on staff we've known for years, and we're all in it for the same reason, to give back to this music community, and put on an event that really ties the whole family vibe together,. Our fan base is very close knit, and it's a really beautiful vibe and we do our best to set that tone musically and beyond."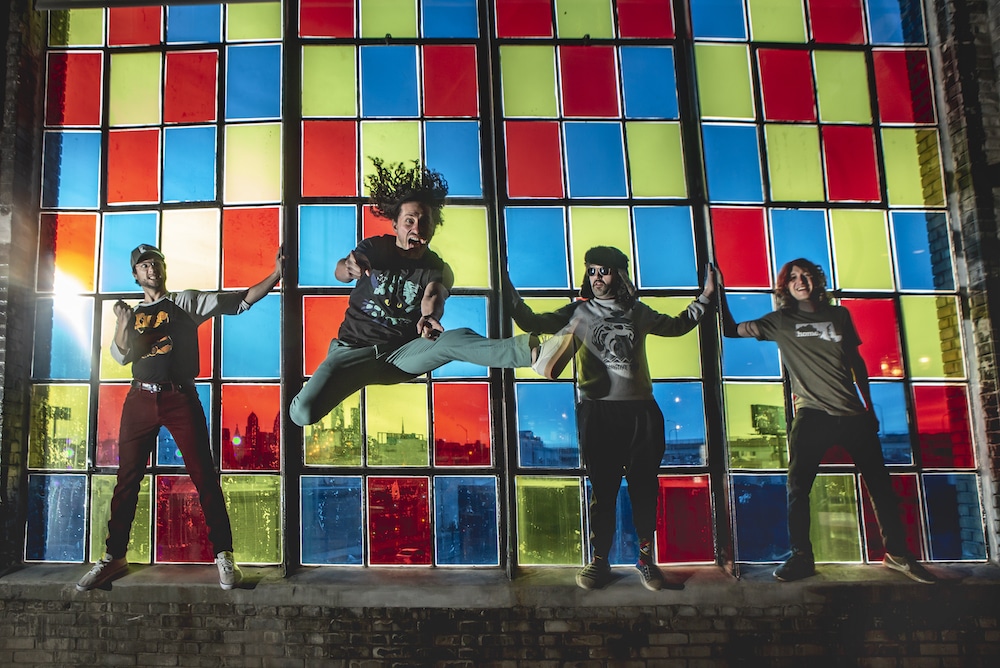 In the last part of the eighteen minute conversation. Ormont explained what makes their shows so much fun, "Our concerts are no-holds-bared energy explosions. I thrive to be on stage. All four of us do. We really let it all hang out. Especially coming out of this pandemic where all of the sudden it was taken away from us. We've always played every show like it was our last on earth. We've said for years, even when we were playing basements or tiny bars ten years ago, 'Let's play this show like it's Madison Square Garden. Let's play it like it's the biggest show we've ever played and leave it all out on the stage.' Musically, it's great an eclectic mix of high energy psychedelic funk. If you go to our show, believe me, when I say that your (the audience) energy is integral in how the concert goes. We start with a set list, but the crowd feeds us that path and the journey we take."
See you on the road!
The new album 'Perspective' drops April 8, 2022 – the singles "Elephante" and "Indiglo" already streaming now, more coming very soon.
Domefest is May 19-21 at Legend Valley in Thornville, OH. Full lineup here, tickets are flying at domefestival.com.