Recently, we went downtown to catch a show at Schuba's Tavern. The headliner act, Mamalarky, is incredibly hard to pin down. They have elements of Indie Rock, and of Psychedelic Pop, but don't fit neatly into either genre. There's a wondrous, captivating thread of Avant Garde that weaves in and out of their music, stitching together the lush vocals, rocking rhythms, and jazzy chord progressions. I discovered them in October, and within a day had already purchased both LPs and bought tickets to the show. I needed to learn more, and sought out an interview with the band.
The four piece were gracious enough to take a bit of time in between sound check and call time to sit down for a few questions. The doorman to the concert stage led us to an upstairs hall, far away from the noisy tavern below.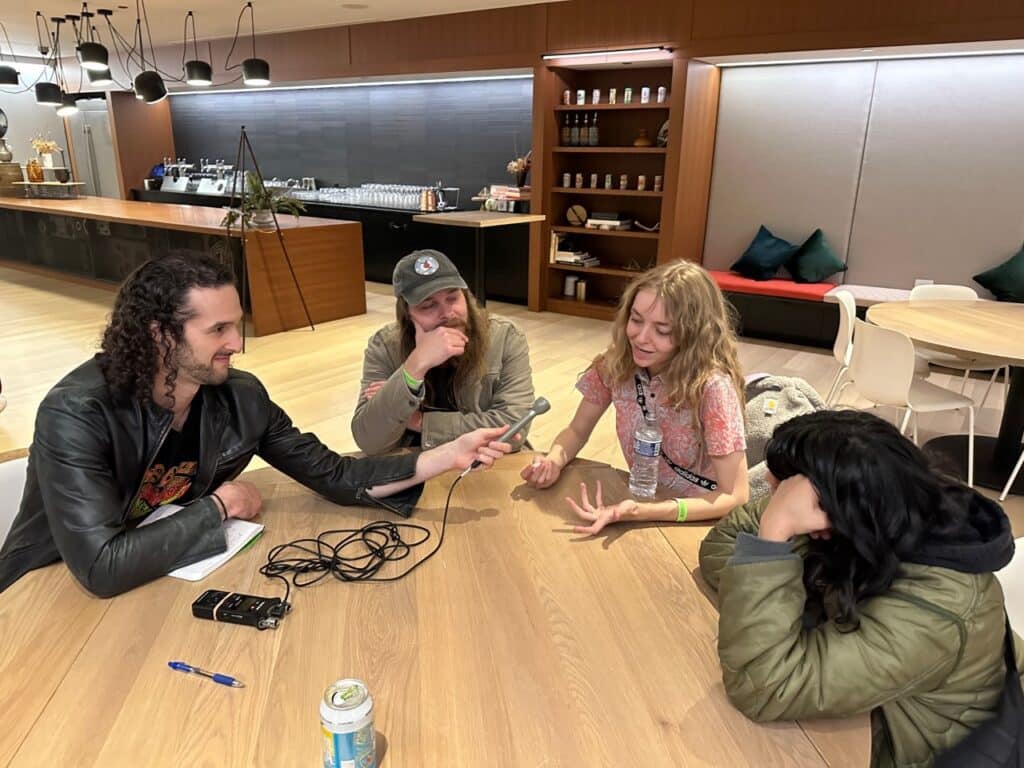 How did you get your start in music?
Livvy: I… started playing keys at a pretty young age, and then my grandfather played guitar, so I was handed one of those pretty young. But I started playing in bands when I was 12 and that's when I really got my footing and learned how to play with other people.
Noor: I did the same, and then I was in orchestra from, like, middle school onward… I played viola but I always wanted to play upright bass. My teacher would let me, sorry if you're listening to this, Pete… I got to the bass on my own, eventually.
MIchael: I started playing keys when I was a kid… supposedly my parents asked I wanted to take some kind of instrumental lesson and I said I wanted to learn keyboard. I don't remember that, but I'll take their word for it.
Dylan: I started playing keys when I was, like, 5. My mom's best friend was a piano teacher and I was her first student.
How did you go from playing music for fun to making music as a career?
Livvy: For me… Austin is a very music-centric town, so from middle school I was playing every single weekend.
Livvy and Dylan had played together since middle school in Austin, and after high school they invited Michael to play with them in 2015, officially forming Mamalarky the following year. Noor would join them in Los Angeles in 2018.
How did the band get its name?
Livvy: My friend Lana, who let us practice in her room… One day she was just, like, writing down names and we're pretty sure that's where it came from. Still the number one fan.
How did you go from Austin, to LA, to Atlanta?
Livvy: Noor is from Atlanta, and it was the pandemic, and we wanted to make a record…
Noor: "What really triggered the move was… we found a really cool house… If we get this, y'all are moving to Atlanta."
Dylan: "I honestly feel like you should've credited the house on the record."
Michael: "There's a little footnote. 'Made at our house'"
The band converted a portion of this house in Atlanta into a recording studio, and it formed the basis of their entire second record. While the pandemic prevented them from touring on their first album for nearly a year, the time spent together and working on new music pushed the band to improve their writing ability and to teach themselves how to edit and mix their music.
Who are your contemporary influences?
Livvy practically jumped out of her chair as she shouted, "DEERHOOF!" Now all the experimental portions of their music make sense. A brief dive into Deerhoof's discography puts Mamalarky's music in a whole new light. The band also expressed an interest in delving record stores for strange records not available online, in an effort to expand their sound in new and unusual directions. It seems as though nothing is off limits for Mamalarky.
"We wouldn't have pushed ourselves to learn how to make recorded music like that."

-Livvy Bennett
How did the pandemic affect the band?
Dylan: We were about to play South By [Southwest]… we got together for rehearsal… and then it got shut down… But in a weird way, if we didn't have that time to really bunker down and work on music for the last 2 or 3 years, we wouldn't have made the record.
Livvy: Ourselves. We wouldn't have pushed ourselves to learn how to make recorded music like that.
Noor: We did release our first self-titled album in November of 2020, so we didn't really get to tour around that album either… It still feels very fresh. It feels fresh every time we get to tour.
Livvy: Releasing [an album] during the pandemic, it would just be like, it's out there now and I will hear from people that they like it, but I don't get to, like, share that community and feeling with people. And I remember feeling kinda sad about that. But, ultimately, maybe that sadness made me go, "ya know what, I'm just gonna keep recording music, let's go."
What's next for the band, musically?
Livvy: That's a question we've really only recently started talking about, and we don't really know… it feels like once you release a record you immediately need to, like, make the next one… but the second this one came out we were on the road, so we'll see. TBD.
Dylan: But we are still, even tonight, we will play a new song that is not on the record.
Livvy: I think we're at the stage of collecting rich life experiences with which to pen some songs. We're getting our inspiration months in.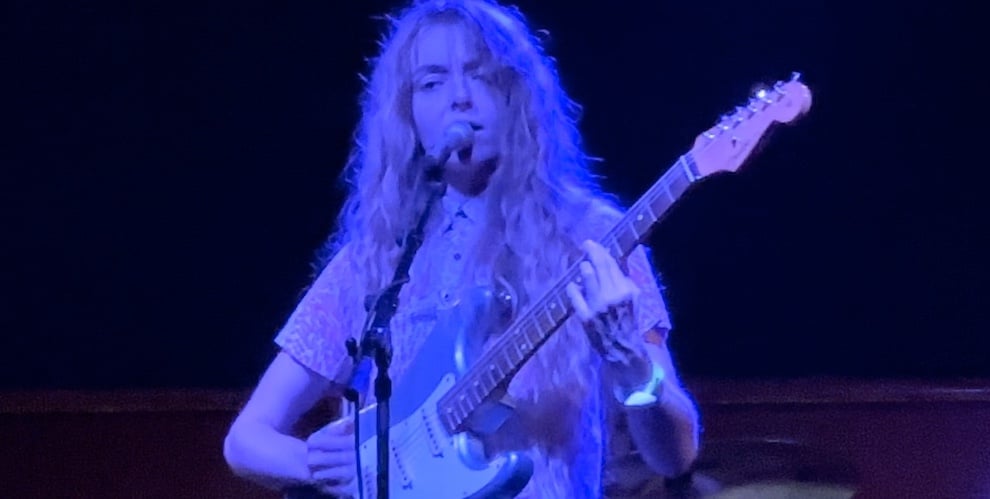 It's clear talking with them, and later on watching them play together on stage, that these are four really close friends whom music has brought even closer together. Frontwoman Livvy even introduced one of their songs, Mythical Bonds, as being written for her bandmates. "A besties song." The official music video for Mythical bonds is posted at the bottom of the article.
Throughout the interview and the concert, the four of them couldn't have been nicer. No amount of road fatigue could keep them from being friendly and courteous. Two other bands, Queen of Jeans and Oceanator, had their Chicago show canceled last minute. Mamalarky and Schuba's worked together to squeeze them onto the bill, along with the original opening act, Neptune's Core. This meant less stage time for them. I would have liked to see them play a longer set, but I respect their decision to help out fellow artists. During a couple of their songs, you could hear the faint beginnings of improvisation, but they kept it concise to adhere to the set times. With any luck, we'll be treated to a more expanded live sound during their tour next spring.