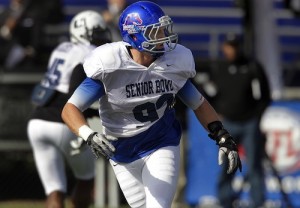 (LAKE FOREST, IL) The Bears held pat, eschewing trade offers both upwards and downwards and selected Shea McClellin, a DE/OLB from Boise State with the 19th pick in the 2012 NFL draft.
Apparently he was a bit of a late bloomer in the draft. It came as a bit of a surprise to the media assembled at Halas Hall to cover the proceedings.
The Bears media info touts the Caldwell, Idaho native as one of the "most underrated defensive ends" in the draft.
New Bears GM Phil Emery likes his versatility, and "natural football instincts,"  capable of both regular and special teams play.  Emery stated, "this is an all downs football player, including special teams. This is a four down player. Our special teams coach gave him a blue level grade as a special teams player." He went on to add, "He has quick hands and feet as a pass rusher."
Some of his collegiate stats included 130 career tackles, 20.5 sacks, as well as 33 tackles for loss and two recovered fumbles.
Via speaker phone McClellan said, "I was definitely excited to be part of a great organization and I can't wait." Furthermore, he noted excitedly, "It's awesome, unbelievable to play alongside Julius Peppers and Brian Urlacher. I just can't wait to get out there. I knew if I went to Chicago I'd get to be rushing the passer a lot."
Audio from GM Emery
[ti_audio media="3656″]