Two weeks away from the regular season kickoff, the Chicago Bears still have a lot of preparation to do before they're ready for a playoff run. And while it's still only preseason, a lot can happen that will determine the outcome of the year. This Friday, the Bears are set to go up against the defending super bowl champion Seahawks in Seattle. Chicago will look to go 3-0 after coming off two straight victories against the Eagles and Jaguars.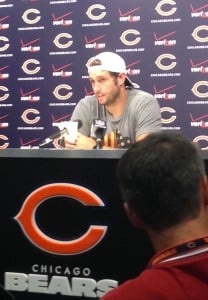 The biggest headline surrounding the Bears this week has been the signing of ninth year veteran wide receiver Santonio Holmes. Holmes spent four seasons with the Pittsburgh Steelers; catching the game winning pass and earning MVP honors in Super Bowl XLIII. Holmes was later traded to the Jets in 2010 and spent four somewhat less exciting seasons in New York. He has caught only two touchdown passes in 15 starts the previous two seasons. After suffering a lisfranc injury in 2012, Holmes has struggled to return to form.
Quarterback Jay Cutler has already expressed some optimism about Holmes. "It's just a matter of getting him caught up with our verbiage, and just getting a rapport. It takes time though." He commented. "He looks really good, he's explosive. To be honest, he looks a little bit rusty, he's been out of football, but he's getting in and out of cuts, he catches the ball well, extremely explosive, fast, he's exciting, we just gotta get him caught up with everything right now. We might have to help him along in the huddle and just make sure he knows what he's doing, but we got enough veteran guys so we can get him where he needs to be." Offensive coordinator Aaron Kromer said that almost an hour after he signed his contract, Holmes was voluntarily out on the field running routes for Cutler.
Jay Cutler talks about Seahawks challenges, wide receivers, upcoming week
Although Holmes did practice, no decision has been made as to whether he will play Friday in Seattle. "I can't say that right now." Trestman responded as to whether Santonio would play. "I think we're trying to get him to that place. I think I'll know a little bit more after practice tomorrow. We'll see where he's at, we'll talk to him, and we'll see whether or not he's ready to go and get some playing time." Trestman went on to add, "He did good work today. And he worked with different groups, so he got some reps, and I thought he worked positively today. I thought there were some good things out there."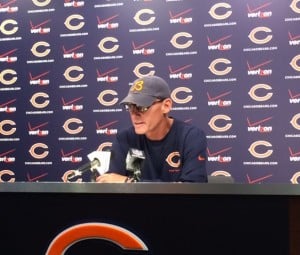 Although mostly backups will play midway through the game against Seattle, it provides a good learning experience for playing against the reigning world champions. "They're the defending champs." Offensive tackle Jermon Bushrod commented. "It's gonna be a test for our offense, it's gonna be a test for each one of us individually up front, and we'll just have to make sure that we're ready to go."
Running back Matt Forte as evidently gone through a few struggles this preseason. In two games, he's rushed a total of seven times for minus seven yards. Yes, as in 7 carries for -7 yards. Despite this, Forte had expressed optimism on the future. "I'm not worried about the previous games like everybody is. I've had seven carries for negative seven yards and all this crap. It's preseason, so I'm ready for the regular season. If you get four carries in a game, you're not gonna do much so it's hard to do a lot. The running game will come along. We've been working on it in practice so we'll be good."
Offensive tackle Jermon Bushrod discusses Seahawks, Bears offense
CenturyLink Field has always provided the Seahawks with a particular edge; disrupting the visiting team's play calls with arguably the loudest fans in the NFL. It's no secret that Seattle has used this technique for years, often causing confusion and miscommunication between players. "It's probably the loudest stadium or at least one of them." Matt Forte admitted. "I've played there twice I believe, and I can't hear Jay. So we've been practicing in the noise with the crowd machine, so that's what we've been practicing for." During training camp last week, the Bears could be seen and heard practicing with a noise machine that emitted the sound of a large, packed stadium in preparation for the game in Seattle.
Some good news for the Bears defense, Lance Briggs returned to practice on Tuesday after missing Monday's practice with a knee bruise. However, Jared Allen sat out of practice after suffering a shoulder contusion. Trestman commented, "It's just a bruise." He went on the add that Allen sitting out was "Just a precaution."
Marc Trestman discusses Santonio Holmes, upcoming Bears vs Seahawks game