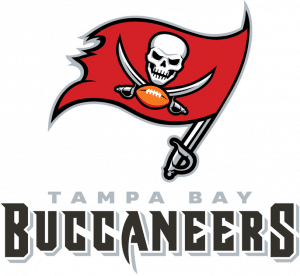 updated Saturday 9/29, 3 pm CT
The 2018 Chicago Bears will face the Tampa Bay Buccaneers this Sunday in an attempt to extend their win streak to three games. Tampa Bay presents an interesting challenge, but it is one the Bears should be up to.
Stopping the Bucs' receivers
The Buccaneers have one of the best receiving groups in the NFL. If winning 50-50 balls is an art, Mike Evans is Pablo Picasso. His combination of size, hands and body control makes him a matchup nightmare. Across him is DeSean Jackson, one of the best deep threats the NFL has had in the last decade. He has re-discovered his deep-ball ability with Ryan Fitzpatrick, compiling 312 yards already. O.J. Howard has blossomed into the tight end he was expected to be. They will pose a serious threat to a Bears' secondary that will have a banged up Prince Amukamara. This will make establishing a strong pass rush all the more important, something the Bears' defense has had no trouble with.
"They definitely have some weapons," Khalil Mack said. "Talking about deep threats, yeah, you talking about Mike (Evans) and all those guys that they have over there man, it's gonna be a challenge."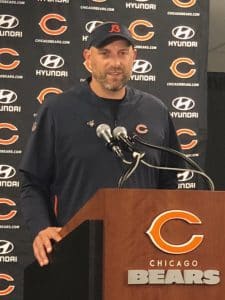 Amukamara has been ruled out of Sunday's game. Undrafted rookie Kevin Toliver II will move up the depth chart. Given his ability to mirror quick route-runners and speed receivers, Bryce Callahan may line up on Jackson, pushing Toliver to the slot, but the two may also play interchangeably.  Toliver is ready for the challenge. "This is an opportunity for me to showcase my talents," he says, "to show what I've been working on. I just have to execute the [game] plan. It's a good challenge for me to see where I'm at. To see how I match up against the top offense in the league right now."
"I was in Philadelphia when we drafted DeSean," coach Matt Nagy said. "He's underrated as a route-runner. He's a phenomenal route-runner."
"Then you got Mike Evans who… he's so big he can beat you with his physical size. But yet, you saw he can go downfield and his ball skills are amazing."
The pass-rush can eliminate those worries altogether. Whoever lines up under center will face a defense that leads the NFL with 14 sacks. If the Bears can speed up the quarterback's internal clock and prevent the Bucs' receivers from having the time to get deep, their defensive success will continue.
Speaking of the quarterback, who will start for Tampa Bay?
The Buccaneers are in an interesting situation. Ryan Fitzpatrick has thrown for over 400 yards in three straight games in place of a suspended Jameis Winston. Coach Dirk Koetter will have to weigh the conventional wisdom of playing the hot hand vs. playing the guy who is supposed to be the franchise quarterback. They present their own unique traits, but Khalil Mack thinks they may be more similar than people realize.
"The skill set difference is strangely kind of like the same in a sense. But you can see the experience on Fitzpatrick, his control at the line of scrimmage.
"Jameis, I played against him two years ago now, I feel like. But he has some of the same intangibles… it's kind of different but it's still similar in a weird way to me."
"Obviously there's tape this of what they're doing this year with Ryan," Nagy said. "And then there's plenty of tape of previous years with Jameis. So, you know, Vic (Fangio) will have that all set. They're both really good quarterbacks."
Fitzpatrick was exposed against the Steelers in the first half of last week's Monday Night game, but he nearly completed a 20-point comeback once he settled in. Winston is much more athletic than Fitzpatrick, so he is more likely to successfully escape a pass-rush. Whoever plays quarterback for Tampa Bay on Sunday won't change who lines up across from them. The Bears'  pass-rush has been the best in the league, and the opposing quarterback won't change that.
Red zone success
The troubles of the Bears' offense have been spoken ad nauseam, but one of the biggest problems haunting them is their struggles in the red zone. Per TeamRankings.com, the Bears convert touchdowns on only 40% of red zone trips, 27th in the NFL.
Lots of things change in the red zone. There is less field to work with, so route concepts become more limited, which means fewer things for the defense to worry about. The run game also takes a hit because linebackers and safeties play closer to the line of scrimmage since they have less ground to cover.
"I think we can be more efficient [in the red zone]. More productive. And that, in turn, if you start getting touchdowns and helping your defense out and getting points on the board, then it'll cover up some of the other stuff that gets magnified because we're not producing points in the red zone," Nagy said.
The Bears certainly have the weapons to succeed in the red zone; Trey Burton, Allen Robinson and Jordan Howard all have desired traits for their positions in the red-zone. It becomes a matter of execution and putting the ball in the right place at the right time.
Twitter: @crbevins11 @radiomogul
Hear audio from Matt Nagy, Mitch Trubisky and Khalil Mack