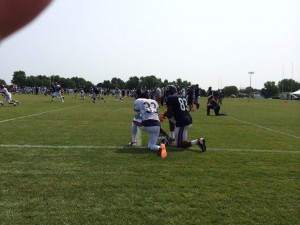 The Bears opened up practice on Tuesday with tight end Martellus Bennet nowhere to be found. Bennet had been involved in a fight with rookie defensive-back Kyle Fuller on Monday, after Fuller attempted to strip the ball from Bennet on what seemed like a harmless play. while fans and reporters wondered where the veteran was, Phil Emery called a press conference a few yards away from the practice field to announce that Bennet had been fined and suspended.
"He was suspended for conduct detrimental to the team," Emery said during practice. "That's where we're at with that. And there won't be any further information on that. Everything else will be kept within the team."
You have to wonder why a body slam at practice would receive such a harsh punishment? this was not a typical 2-3 day cool off suspension, Bennet was suspended INDEFINITELY!!! Could his issues with Brandon Marshall be a factor? Have some of the veteran players grown tired of his act? Emery did not answer much.
"This is a process that we're working with Martelllus on," Emery said. "We are in contact with him. Our goal is to have Martellus back as soon as possible. He's a loved and respected teammate and we want him back. But it's a process that we'll have to work with."
The timing could not have been worse for the Bears, who open their preseason schedule on Friday at Soldier Field against the Philadelphia Eagles. The team also lost No.3 receiver Marquess Wilson to a fractured clavicle on monday, his return date is unknown after he underwent surgery early Tuesday morning.
Bennet, who is coming off his best season with 65 catches, 759 yards and five touchdowns, spoke to the media on Monday after practice.
"Everybody talks about friendships, but really we are all preparing to win a championship," Bennett said. "If we make friends along the way, cool. But I'm just trying to help the Bears win a championship and do the job to the best of my ability."
Head coach Marc Trestman also spoke to the media about Bennet's situation.
"We've got a plan and a process in place, and as I told the team today, we love him. He works hard. He loves football. He's a good father, and we want to get him back as soon as we can and we'll go through this process and when the time is right he'll be back," Trestman said Tuesday.
While the amount of the fine and the length of the suspension are unknown at this time, the Bears DO know they will need Bennet back soon.