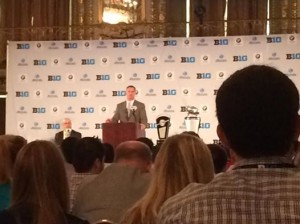 Big Ten Media Day took over the Hilton in Chicago on Monday and Tuesday, and just in case you didn't have over eight hours to catch the action on the Big Ten Network, here is the breakdown of some of the main storylines.
THIS WILL BE THE FIRST SEASON WITH THE NEW "COLLEGE FOOTBALL PLAYOFF"
Now, every game matters even more. The new playoff preserves the excitement and significance of the college football regular season where every game will count. The selection committee will choose the top four teams for the playoff based on the body of work, strength of schedule, head to head results, comparison of results against common opponents, championships won, and other factors. It will also place teams in other New Years bowls.
So now, New Years' Eve and New Years' day will have back-to-back triple headers with two semifinals, and four other premier bowl games. Semifinal games will rotate among six different bowls. Our girlfriends/wives will be so happy!!!!!
The championship game will be on a Monday every year, and every FBS team will have equal access to the playoff based on its performance. No teams will qualify automatically.
MARYLAND AND RUTGERS JOINED THE BIG TEN
Yeah I don't quite understand how this happened either. Anyway, Rutgers has become one of the nations top programs in developing players for the NFL. 86 of the Scarlet Knights have signed NFL Contracts since 2000.
Head coach Kyle Flood explained how he felt about joining the Big Ten. "It feels right," Flood told the media Monday. "I dont think there is any other conference in the country that we would want to play in, the premier academic athletic confrence that the Big Ten is, and I don't think theres any better choice the Big Ten could have made than to add Rutgers University."
The Big Ten made another big choice by bringing in Maryland as well. Maryland Head Coach Randy Edsall talked to the media about the change ahead. "We have 10 new opponents that we have to prepare for," Edsall said. "So, the spring and summer have been a whirlwind for us coaches from the standpoint of getting to know the teams here in the Big Ten that were going to be playing against"
COACH FITZ IS LOOKING FOR A BOUNCE-BACK SEASON.
Northwestern Wildcats Head Coach, Pat Fitzgerald, will enter his ninth year at the school, where he has led the program to five bowl games in the last six seasons. The Wildcats are coming off a disapointing campaign, however they will have 18 returning starters this season, including quarterback, Trevor Siemian, (who has made the Wildcats "his team" this offseason), and Venrik Mark, (who is coming off an injury).
Coach Fitzgerald commented on his up and downs while at NU. "The last two years have been interesting," Fitzgerald said at the podium Monday. "2012 we were very fortunate, had great sucess and stayed relativley healthy. Last year we didn't achieve the sucess we expected in Evanston."
The Wildcats are coming into the 2014 season looking to bounce back and build the same excitment that was felt when "ESPN'S COLLEGE GAME DAY" paid their first visit to the school before last seasons matchup with Ohio State. Unfortunately, after the loss to the Buckeyes, the Wildcats were bitten by the injury bug and fell apart. Coach Fitz won't let last season's collapse or this off-season's union push get in the way of returning to the top of the Big Ten.
"Looking at 2014, we have 18 returning starters," Fitz reiterated. "We have a quarterback [Siemian], who has thrown for going on 3500 yards and 20 touchdowns, it starts and ends with the quarterback position."
Click below for more of coach Fitzgeralds press confrence at Mondays Big Ten Media Day.
THE SPARTANS "ARE THE HUNTED, NO LONGER THE HUNTERS"
Michigan State Head Coach, Mark Dantonio, told that to a room full of reporters and TV cameras on Monday morning. The Spartans are coming off a magnificent season in which they won the Big Ten Championship and the Rose Bowl (defeating Stanford 24-20).
The Spartans welcome back junior quarterback, Connor Cook, who was the offensive MVP of last years Rose Bowl after completing 22-36 passes for a career 332 yards and two touchdowns.
"Cook's first season was successful," Coach Dantonio said. "So it gives him a lot of confidence moving forward, its a major factor in where we are as a football team."
The Spartans will play in one of the most anticpated college football games of the year, when they travel to Oregon, to play the Ducks on September 6. However coach Dantonio is not over hyping the matchup.
"That game is just one game. If we don't take care of the rest of the schedule and we win that game, it really means nothing."
Michigan State begins the year ranked #3 in the AP Poll, and bring back defensive studs Marcus Rush, (7 sacks), and Shilique Calhoun, (Big Ten Defensive player of the year candidate).
For more on Michigan State click the link below:
URBAN MEYER NEEDS TO PROTECT BRAXTON MILLER
He may have tried to sugar-coat it on Monday, but Urban Meyer is worried about his offensive line. Braxton Miller is coming off surgery on his throwing shoulder and does not plan on changing the way he plays the game. "I wont change, I like to compete," he told me on Monday at the player podium. Meyer discussed Millers health as well.
"He is ready to go," Meyer said. "He's full speed, best shape he's ever been in his life." "Concern No. 1, that's it," Meyer said of the offensive line. "There's a bunch of concerns, A-X, whatever it is. The No. 1 on the list is developing the offensive line (to protect Miller). I don't want to say that's where all of our focus is, but a good portion of it."
There is a reason Miller's health is so vital to the teams success. The senior is a leading contender for all major national awards, and already the holder of nine school records. Miller is also on pace to become just the ninth player in Division I history to rush for 40 touchdowns and pass for 40 touchdowns.
The Offensive Line will definitely have to mature by the start of the season, especially with a tougher schedule and a bulls-eye on their backs in the new-look Big Ten.
"I think they're hungry," Meyer said of the unproven Line. "I wanted to see a little more growth [in the spring]. And it's so easy to coach hard, we have coached them real hard all the way through"
A NEW ERA BEGINS FOR PENN STATE
Thats the slogan on the front page of the Nittany Lions yearbook. New head coach James Franklin signed a six-year deal worth $25.5 million in total guaranteed compensation, with a buyout starting out at $5 million and gradually decreasing to $1 million by the last year os his contract.
Franklin came to Penn State from Vanderbilt, where he had been the head coach since 2011 and led the school to three straight bowl games for the first time in schools history. He will take over a team that features the 2013 Big Ten freshman of the year in Christian Hackenberg.
Hackenberg threw for 2,995 yards and 20 touchdowns while completing nearly 60 percent of his passes. He also broke one school record and 12 freshman game for season records last year.
WISCONSIN LOOKS TO RUN BEHIND GREAT O-LINE (Go figure.)
Is it really ever a surprise when Wisconsin has a great runningback following a great offensive line? They will continue that tradition with Melvin Gordon, who will be an early season Heisman canidate. Badgers head coach Gary Andersen talked about his team's strengths on Monday.
"Obviously Melvin is the running back, he is tremendous," Andersen said. "The offensive line is healthy, I feel great where they are sitting, we look to be 8-9 deep and in a good position there."
WHAT SHOULD WE EXPECT FROM DEVIN GARDNER?
Michigan quarterback/offensive weapon, Devin Gardner accumulated over 3,443 total yards and 32 total touchdowns last year for the Wolverines. However, many have criticized his sometimes "out of control and unorthodox" play during critical parts of games. This will be his year to prove the doubters wrong.
Gardner had a monster game in a 42-41 loss to Ohio State last season, in which he threw for 451 yards and four touchdowns (with a broken foot). He will have to have to get the job done this year to make sure Wolverines' head coach, Brady Hoke, doesn't feel the pressure of being on the hot seat. "The only pressure is, every day, preparing those guys for life after football. Hocke said when asked about the pressure of leading Michigan back to the top of the Big Ten and the national polls."
Players to Watch
ILLINOIS- Jon Davis, Austin Teitsma
Indiana- David Cooper, Nate Sudfeld, Shane Wynn
IOWA- Carl Davis, Mark Weisman
Maryland- C.J. Brown, Stefon Diggs
Michigan- Devin Gardner, Jake Ryan
Michigan State- Shilique Calhoun, Connor Cook
Minnesota- David Cobb, Cedric Thompson
Northwestern- Collin Ellis, Trevor Siemian
Purdue- Sean Robinson, Ryan Russel
Penn State- Mike Hull, Sam Ficken, Bill Belton
Ohio State- Braxton Miller, Michael Bennet, Jeff Heuerman
Wisconsin- Melvin Gordon, Michael Caputo
Nebraska- Ameer Abdullah