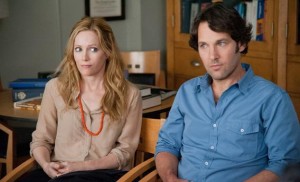 A holiday twofer as I saw a pair of movies over the weekend ("This is 40" and "Guilt Trip"). Neither was great but both kept my interest enough to give them passing grades.
"This is 40" is the follow up to "Knocked Up" in which Paul Rudd and Leslie Mann reprise their roles as  a married couple,  this time however, they are  celebrating their fortieth birthdays and both questioning where they are in life.
Rudd is one of those likable actors who has made a living in cutesy flicks like this. In this movie he eats marijuana cookies, farts in bed and ogles hot women. And speaking of hot women, Megan Fox plays a supporting role and if ever a female had an appropriate last name it's this women. She truly is a fox and the movie takes full advantage of her outrageous geometry. In fact in one scene Mann admires Fox's breasts and asks, "are they real?" The answer is right out of "Seinfeld"…."They're real and they're spectacular."
The movie is directed by Judd Apatow who just happens to be married to Mann and the story is said to be a reflection of their married and family life. Apatow's children are also in the movie so talk about taking your kids to work day.
A fair amount of laughs are in the movie with the under used Albert Brooks supplying many of them.
Again, not a great movie (even a little weird at times) but it gets a run-scoring double – two and a half stars on my report card.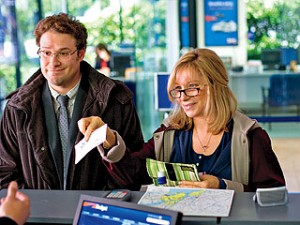 "Guilt Trip" was a 93 minute (love shorter flicks) movie that follows Seth Rogen and Barbara Streisand on a cross country car trip. Rogen (fairly understated in this role) plays a scientist pitching a new cleaning product and Streisand is his very "Jewish" mother. A lot of stereotypic jokes are on display especially early, on but the humor loses steam as time goes on.
Streisand is in my mind the greatest female singer ever but also is a natural on camera and especially shines in comedic roles. This particular role was tailor made for her as she plays the Jewish mother to a tee. Rogen is frustrated, annoyed, and embarrassed by his mother but also deeply loves her and that's where the sentimental emotion comes into play.
Not much of a plot to this movie but it was a good pairing of Rogen and Streisand who have good chemistry. A better story and more jokes would have helped but it still gets a passing grade,   only a ground rule double – two  stars.
OK…..Bring on the holiday blockbusters. I can't wait to see "Django Unchained" and "Zero Dark Thirty"