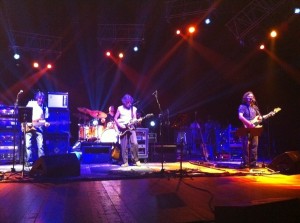 The last visit to Chicago by The Dead/Other Ones/Furthur, or whatever the kindred spirits keeping the Grateful Dead fire aflame these days, produced a rather uninspired show in Rosemont.
Hopes were high that the performance was simply an aberration. Traditionally, the merry band of players serving as the basis for all the jam bands today like Phish and Widespread Panic has played some of their best shows in the Windy City. Older fans were perhaps fortunate enough to have seen them at the old Uptown Theater in the late seventies or early eighties.
Thankfully, the band did not disappoint. They played a terrific show that could have been staged at the old Uptown. From the opening harmonies of "Here Comes Sunshine" to the closing, soulful sounds of 1970's "Attics of My Life," Bob Weir and Phil Lesh, along with John Kadlecik (whose reproduction of Jerry Garcia's sound and voice is phenomenal) and the rest of the band were in rare form and delivered a show for the ages.
It is the combination of a acoustically sound venue, cool crowd vibe, and fired up band of performers that makes for a good show. The song selections were terrific, the jamming was outstanding, and it was a no hassle evening. Even the obligatory Bob Dylan cover was "All Along the Watchtower," an excellent choice. "Attics" as a closing song ranks among fan favorites, such as "Brokedown Palace" and "Ripple." If you get one of those three, chances are it was a pretty good show. None of the songs was newer than 1980's "Feel Like a Stranger, or "Lost Sailor/St. of Circumstance" which are three of the standout tracks on the "Go To Heaven" album.
Both sets were strong from start to finish, with no lulls in the music. The band got into it, the crowd responded, and the performers took it to another level. I haven't heard any sound from the last two shows in New York, which also featured some top notch set lists.
If you missed the Dead circa 1972 – 1977, this is the best incarnation in a while. In his last years, Jerry Garcia playing and singing was not quite what he used to be. His years drug abuse was finally catching up to him. Thus, the band stopped playing some of their best material. Kadlecik will never be Jerry, but if you closed your eyes Tuesday night, you could swear it was the fat man himself on the guitar.
Furthur now has the ability to revisit some of the best material that had been in mothballs for the better part of two decades. Catch them while you can.
The only downside, if there was one, was that in their infinite wisdom, the powers that be (Park District) would not let any patrons in to the adjacent parking lot until an hour before the show.  Early arrivals were ushered over to the Soldier Field parking garages to trek back to the venue in the blistering heat.
07/17/12 (Tue) Charter One Pavilion at Northerly Island – Chicago, IL
Set 1: Here Comes Sunshine, Mississippi Half Step, Cumberland Blues, Cassidy, Doin' That Rag, Lost Sailor > Saint of Circumstance
Set 2: Feel Like A Stranger, Passenger, Truckin' > Viola Lee Blues > Mountains of the Moon > All Along the Watchtower > Morning Dew, Throwing Stones E: Attics Of My Life