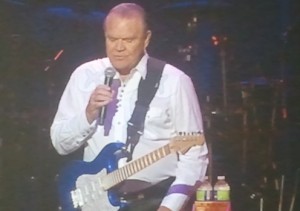 Last night's concert at Ravinia could have been sponsored by AARP. Glen Campbell and Ronnie Millsap, along with several key members of their respective bands are eligible.
In all seriousness, Campbell is embarking on a true farewell tour that will take him around the US, and down to Australia and New Zealand. He already made the hop across the big pond earlier this year.
The country music singer, former variety show host, and occasional actor revealed in 2011 that he was diagnosed with Alzheimer's. Yet he made a bold decision to go out on tour for one last hurrah.
I'm glad he did, because that was one of the few living artists left on my bucket list.
With the help of teleprompters, he can still belt out his old hits, and the new songs he's crafted for his latest album, "Ghost on the Canvas."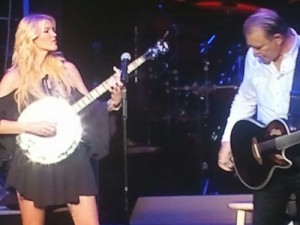 The high heat and humidity didn't help, as he repeated some of the same stage banter a few times. Campbell usually had to ask his band which keys the songs were in, but once the playing began, his fingers knew exactly where to be at all times.
He certainly didn't need the prompter to recite the lyrics to "Rhinestone Cowboy" or "Southern Nights."
Campbell had three of his kids with him onstage, including daughter Ashley who played keyboards as well as a ripping banjo on several songs including "Dueling Banjos."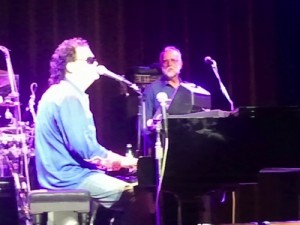 Country singer Ronnie Millsap was the support act, and in a unusual, yet perfectly understandable move, played after Campbell.
Those who chose to stick around were treated to everything from country and gospel, to doo-wop, and rock and roll. His closing number was a great rendition of "Honky-Tonk Women."
Millsap told a number of stories on stage, from his first meeting with Ray Charles, to attending a school for the blind in his native North Carolina.
all photos by the author
Glen Campbell – Ravinia Festival – Highland Park, IL
June 28, 2012
Gentle on My Mind
Galveston
By the Time I Get to Phoenix
Try a Little Kindness
Where's the Playground Susie
Didn't We
I Can't Stop Loving You
True Grit
Lovesick Blues
Dueling Banjos
Band Intro (Glen offstage)
Hey Little One (Glen offstage)
Any Trouble
It's Your Amazing Grace
The Moon's a Harsh Mistress
Wichita Lineman
Rhinestone Cowboy
Encore:
Southern Nights
A Better Place