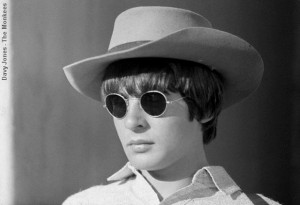 by Peter Phillips at Rockpool.com
Yet another great entertainer has passed away prematurely. Davy Jones had spent his lifetime singing, dancing and acting and is remembered by most people around the World for his work with the Monkees. I was lucky enough to work with Davy a couple of times in the 1970s and 80s and one story stands out as an example of what a wild and crazy guy he was beneath the innocent exterior.
Davy's default setting was definitely 'Off the wall'. The Empire Theatre, Liverpool. 1978. I was the Assistant Stage Manager. So far during the year we had had The English National Opera doing 'Die Fleidermous'; The National Ballet with Wayne Sleep prancing and pirouetting and Wishbone Ash with the biggest, stage filling PA system I had ever seen, with a small carpeted area in the middle where the band stood. I remember thinking this must be the legacy of all those girls screaming at the Beatles so loudly that no one could hear the music.
Ever since, rock bands had proclaimed via their massive PA systems, 'Scream if you like, we've got fifty thousand watts of Marshall stack'. I love the Liverpool Empire and I've seen lots of gigs and shows there over the years. The theatre opened in March 1925, on the site where a theatre had been since the 1860s. The stage is enormous, bigger than the one at the Palladium in London and there is a vast area above the stage where whole sets can be flown intact.
The Beatles played their last ever Liverpool gig there in March 1965 with ninety watts between them, as over two and a half thousand fans went hysteric. But by the 1970s the place was in need of a bit of doing up. Paint was peeling here and there, the carpets were a bit smelly and threadbare but it was still a very impressive, well loved and atmospheric venue. In 1979 the theatre closed down for a few months and was refurbished by Liverpool City Council.
read the entire story at Rokpool.com