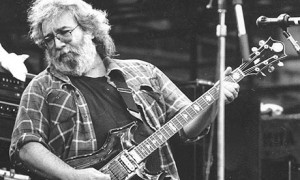 Among Grateful Dead fans "The Days Between" is not just one of the last songs from the Hunter/Garcia repertoire, but its has also come to symbolize the time between the date of the Jerry Garcia's birth (August 1st, 1942) and the anniversary of his death on August 9, 1995.
See below for the special Psychedelic Time Warp tribute to Jerry Garcia
David Dodd in his blog post describes it, ""Days Between," a late song in the Robert Hunter / Jerry Garcia songbook, was perhaps their last collaboration on a big, significant song, one that ranks with "Dark Star" and "Terrapin Station" as ambitious and intentionally grand. (I was talking the other day with a friend, about Garcia's playing and songwriting, and the thought came up that Garcia, like few others, was unafraid of grandeur, and could successfully pull it off. Same with Hunter.)
"It was first performed on February 22, 1993, at the Oakland Coliseum Arena, the middle show of a three-night run. The night before, they had premiered three other new songs: "Eternity," "Lazy River Road," and "Liberty." Its final performance was on June 24, 1995, at RFK Stadium in Washington, DC. During its relatively short time in the live repertoire, they played it 41 times, always in the second set, and fairly frequently rising out of the Drums. It appeared like the ghostly ships it describes, as if gradually from a fog and only slowly revealing itself as something very big, towering above everything around. "
Older Deadheads may remember August 9th as vividly as November 23, 1963. To younger fans, this may have been the first of many iconic music legend deaths along with Lou Reed and David Bowie.
We present the two hour tribute show from Psychedelic Time Warp, heard weekly on Acid Flashback Radio.
Hour 1
Hour 2
As a bonus, here's a Spotify playlist of select Jerry Garcia music from throughout his career, including collaborations with Merl Saunders, David Grisman, and Old & In The Way.