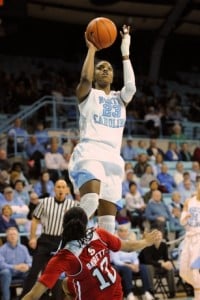 For the HERO and ZERO of the week, we'll go with 3 local Women's Coaches!
When the Women's bracket was announced, Duke coach Joanne McCallie quickly voiced her displeasure with the parings, which I believe had Duke as the #2 seed in the same region where UConn was #1.  She said they must not want Duke in the Final Four at all, to put them in UConn's region.
I realize all of the "Coach-speak" about playing one game at a time gets old, but McCallie was a complete ZERO for thinking Conn. was the only threat keeping Duke out of the Final Four.   Duke was promptly bounced—on their homecourt—by #7 seed DePaul!    Maybe she meant putting DePaul in Duke's bracket showed they did not want Duke in the Final Four.   It seems the sense of entitlement that is evident in the Duke men's program is shared by the Women's program as well.
Meanwhile, UNC made it to the Final 8, losing to Stanford—on Stanford's homecourt, in the Regional Final.     Despite playing several freshmen a majority of the time, (and in Women's program, hardly anyone leaves early, so they were playing against mostly upperclassmen), they had a good run in the Tournament, despite a somewhat inconsistent regular season.
They beat Duke twice in the season, but lost enough games to finish SIXTH in the league standings!   Then they beat 3 seed Maryland, (which as you know advanced to the Final Four), before losing a very close game to Duke in the ACC tourney semifinals.
Making UNC's run even more amazing, was of course the fact that for the entire season they were without their Coach, Sylvia Hatchell, who is battling leukemia.     We'll choose not only Hatchell, but also long-time Assistant Andrew Calder as HERO(s) of the week.  He did  a great job, with a very young team, while all of the time crediting Hatchell for the success.  He even said after their loss the other night, "Having a Hall-of-Fame Coach on the sidelines may have made a difference.'
Assuming Diamond Deshields [daughter of former MLB player Delino DeShields] or none of the other freshmen leave early, UNC should have a very good Women's team for years to come!