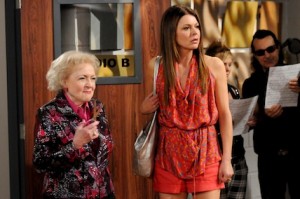 We got a heads up from the publicist on this one, so why not? Everyone loves Betty White, and she sure is killing it in this show, along with Valerie Bertinelli and Wendy Mallick.
The send up: When Johnny Revere (Huey Lewis) records a benefit song in Cleveland, Victoria (Wendie Malick) assumes they'll pick up where they left off. Meanwhile, Melanie (Valerie Bertinelli) meets her musical idol, Elka (Betty White) gets snippy for her favorite charity and Joy (Jane Leeves) chases her fantasy of being a rock star.
Catch it Wednesday night at 10 PM Eastern and Pacific
Channel 304 on DirecTV or check your local listings.
Photo courtesy of TV Land, as well as the video clip below.