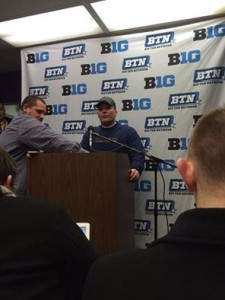 Championship football took over Memorial Stadium in Champaign, Illinois on Saturday afternoon. The stadium first opened in 1923 when Illinois defeated Chicago, 7-0 in a homecoming game. Unfortunately for the Illini, they were playing at Ryan Field in Evanston on Saturday, and the championship game back at their house was for the IHSA State Title.
Meanwhile at Northwestern University, Illinois (6-6) took on Northwestern (5-7) in a "State Championship" of their own. However this in state rivalry was not for a ring or trophy, but a chance to become bowl eligible with a qualifying sixth win on the season.
Illini backup quarterback Reilly O'Toole, threw for 147 yards and three touchdowns, while also rushing for 147 yards and Illinois routed Northwestern 47-33 on Saturday afternoon. The win not only made the Illini bowl eligible, but also possibly saved head coach Tim Beckman's job next season. Beckman was on the "hot seat" after another disappointing conference record, but was not ready to discuss his job security just yet.
"I haven't even thought about whether I will be back next year, I was just worried about Northwestern," Beckman said after the game. "I am not worried about job security, I just want our players to be happy."
The Northwestern locker room was anything but happy after the game. The Wildcats struggled offensively for most of the day and had a hard time moving the ball. One of the lone highlights was when Solomon Vault returned an 89-yard kickoff for a touchdown for the Cats' first score of the day.
While Northwestern would move the ball better in the second half, it was still not enough to hang with the Illini. Northwestern Quarterback, Zack Oliver, completed 23 of 38 passes for 221 yards and a score, but would also throw three interceptions, which would put NU in an early hole.
"Illinois started the game and put us behind the eight ball from the standpoint of being down multiple scores," Northwestern head coach, Pat Fitzgerald, said. "We got it down to eight, but we couldn't get over the hump.
So while Northwestern will be at home enjoying the holidays with family, the University of Illinois will be playing football for a few more weeks. That may not matter to most college football fans since it will not be a major bowl game, but to Beckman and his players, it is a dream come true.
"I'm just glad my season with these guys can go as long as it can," O'Toole said. "I just want to play with these guys for as long as I can, be an Illini for as long as I can and it's come true. Hopefully, we can come out with a bowl win."
click below for more on Beckman's job security at Illinois
Ref: Illinois tops Northwestern – Bowl eligible