Kevin Godley grew up in Lancashire England. His parents listened to Bing Crosby, Frank Sinatra, and classical music. As a teen, he discovered Radio Luxembourg listening late at night in his bedroom. "It was a very difficult station to find, to tune in," he explains. "But when you did manage to tune in, it was amazing. There was some amazing music starting to come out of America at that time. That was my secret passion."
He had no formal musical training. "I hung around with people who played. I never learned to really play an instrument properly. I tried playing guitar for a while. I wasn't very good. I ended up playing bass in this local group on a six string guitar." The drummer in the band was "hopeless" in Kevin's words and one day, "I got to sit down behind his kit and have a thrash around and discovered even though I couldn't do it particularity well, I had that 'independent suspension thing' that one needs to play drums." So he switched to drummer.
Godley was introduced to future bandmate Lol Creme at age fourteen while making an eight-millimeter 'Dracula" film. Kevin took the vampire role and Creme portrayed a hunchback. "He played the part very well. We were both reasonably talented artists. We hit it off, because we were both mavericks to a certain degree. We didn't want to do what our parents wanted us to do. So we eventually ended up going to art college, because art was pretty much the only thing we could do well. During those years, the beginning of the 1960's through to about 1967, 1968, we would convene at each other's houses on weekends and come up with mad ideas for musical shows and write music." He was drumming in several bands at night while studying graphical design during the day.
As luck would have it, Graham Gouldman was a neighbor. "He mentored us as songwriters. He recorded some of our early stuff on two-track Revox (reel-to-reel) at his parent's house." Naturally, Godley found music far more satisfying than graphic design.
Godley would join Gouldman in his band The Mockingbirds. Gouldman would go on to pen several songs that became huge hits for other bands like "Heart Full of Soul", "For Your Love", and "Bustop".
We recorded some of the songs that he ended up giving to the Hollies and the Yardbirds. Could we get a hit record? No. We couldn't. All the songs he sent to other people had huge hits with them. It just didn't translate to us for some reason.

-Kevin Godley on Graham Gouldman
Even though the band hadn't found success yet, the members were improving as musicians and songwriters. "It was more about being in the right place at the right time, than a conscious desire to become a professional musician, " says Godley. "The big switch, I guess, was also knowing Eric Stewart quite well by then. His desire to open a fully fledged professional recording studio in the Manchester area was the one thing that changed it for all of us."
That was Strawberry Studios. Creme and Godley were asked to come in and play so Stewart could test the recording equipment. One of the outcomes of the impromptu jam sessions was a track called "Neanderthal Man". The first version of the song was accidentally erased, so the guys had to rerecord it. The experience helped the future members of 10cc learn the inner workings of the studio. The record was released under the band name Hotlegs was a number two hit in the UK.
Suddenly we were pop stars. It actually felt quite nice. We were on holiday, and we spent a bit of money. It was better than being a graphic designer.

-Kevin Godley
Godley, Creme, Stewart, and Gouldman became the house 'band' and the house 'producers' at Strawberry Studios. "We had all sorts of people come in that we would produce, from football teams to ventriloquists to comedians to strange duos, one of whom thought he was the reincarnation of Ramses II. We learned our chops in the control room. We learned how to play together. We learned how to produce together."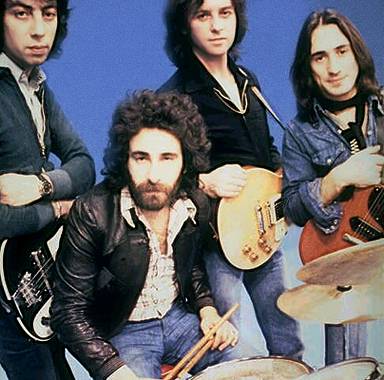 The entourage produced two albums for Neil Sedaka. At some point during the sessions the famous singer asked them, "You guys are great. Have you ever thought about forming a band?" They hadn't but gave it some thought and decided to make a another recording. Gouldman and Stewart had written a song called "Waterfall" which they sent the Beatles' label Apple Records. In case the song got picked up, they decided to record a "B" side. In half an hour's time they put together another Godley and Creme track called "Donna". The consensus was the hastily crafted parody of doo-wop was a better song, and Stewart called in label owner Jonathan King, who called it "a smash" and released it on his own UK Records label. "Donna" gave the band their second number two hit.
That was followed by "Rubber Bullets", a spoof of "Jailhouse Rock". It chartered as a UK number one and a hit worldwide. Thus, 10cc began to put out material. The creative forces were really two twosomes writing songs. Gouldman and Stewart penned the more pop oriented tunes, while Godley and Creme gravitated towards artsy, exploratory efforts.
"It wasn't about writing a hit record. It was about taking this 'idea' as far as it can possibly go. From a commercial versus an artistic perspective, we were slightly more towards the experimental side."

-Kevin Godley
Godley explained how he an Creme collaborated to write songs. "You react to each other. back then. I would sit opposite Lol, and he would play some chords on the guitar and I would sing something. Most of the time it would be shit. But occasionally something would happen. Something I would sing would mesh with what he was playing, and a germ of an idea would develop, and you knew you had a starting point. You get an instinct when you have something that you believe is going to work, and you keep singing that over and over, and then you add something to it. And it starts to grow. And If after a few days or a few hours even, it makes sense and it sounding quite interesting, you stop. You come back to it the next day. If you've forgotten it, it's shit. If you remember it, it's good, or it's potentially good. So you keep going down those roads. Then we have something."
The quartet produced four albums before creative tensions led to the departure of Godley and Creme to record under their own names. 10cc's early output produced several hits including "The Wall Street Shuffle, and their worldwide smash "I'm Not In Love", as well as cult favorites "Une Nuit A Paris", "The Second Sitting for the Last Supper", and "Life Is a Minestrone."
It took three albums for the new duo to notch a hit song. "An Englishman in New York" was a hit everywhere except, ironically, in England. The video for the song was their introduction to the world of music video. It led to an epiphany. "We can do this. This is like bringing the two things that we do together. We studied art and we do music. Bang! We can do this." In the process they learned everything that they needed to know to make videos.
Steve Strange from the band Visage, who was also on Polydor, their label, insisted that the duo film his video and it was a hit. Suddenly the pair became a hot commodity. Their video credits included Fine Young Cannibals, Bryan Adams, U2, Paul McCartney, Herbie Hancock, Peter Gabriel, Frankie Goes to Hollywood, and Eric Clapton. "The secret was that we were musicians. They knew that we understood what they were talking about when they were trying to describe their music." In the early days of music videos, that fact set them apart from directors whose backgrounds were in commercials or television.
It's incredible what was uncovered in recent years from the band's early days. A fan contacted Godley about a long lost recording session circa 1967-1969 which Kevin linked in his autobiography, Space Cake. It has since been released by John Reed at Cherry Red Records as Frabjous Days with the band name of Frabjoy & Runcible Spoon, a moniker that Godley wasn't particularly enamored with. "These were really early days and we didn't know what we were doing." However, the result is quite amazing. Have a listen. Further below is a link to the entire interview and a selected playlist of Godley best work.
Listen to the full interview as Kevin Godley talks in greater detail about the above topics, plus iconic songs like "Rubber Bullets", "I'm Mandy, Fly Me", "Clockwork Creep". He also tells us what it's like to work with Bono and U2.
All interviews are property of InternetFM and no portion may be excerpted, copied or used without permission.
Godley's most recent album was 2020's Muscle Memory. He released singles in 2023 and 2021. All are available on the streaming services.
Here is a Spotify playlist of selected songs by Godley from throughout his career.