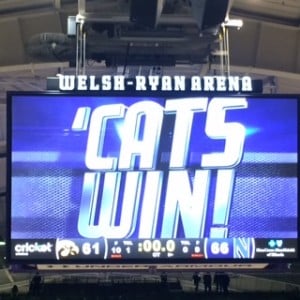 Living in Chicago most of my life, driving slow and steady during the winter months is more of a way of life than an inconvenience. As I was driving to Welsh-Ryan arena this afternoon, it was abundantly clear that my 30 minute drive was going to double thanks to Mother Nature and it was time to enjoy the 15 mph drive.
Even with the traffic, I was able to make the tip off as my alma-matter (Iowa) was in town for a 2 pm showdown with the 1 – 10 Wildcats. These two teams have been evenly matched the past couple years as they have spilt the last 14 meetings. NU beat Iowa in the 2013-14 BIG Ten tournament, 67 – 62, thanks to a 20 point performance from Tre Demps.
The slow and steady pace of my day was even more evident as the Hawkeyes and Wildcats were having a hard time finding their offensive mojos. The first half seemed to drag along as neither team could sustain any offensive rhythm as the Cats took a 27 – 24 lead going into the half.
Tre Demps had 8 points in the first half and finished with 16, while adding 4 rebounds and 3 assist. Demps hit a pair of 3 pointers late in the second half to regain the lead, which they would hold for most of the second half.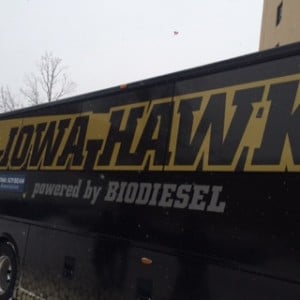 Bryant McIntosh is only 1 of 3 true freshman in the country who is averaging 11.5 points and 4.0 assist per game this season. McIntosh did not play like a freshman, as he gave Iowa all they could handle by pouring in 18 points and dishing out 4 assist.
It was McIntosh's 2 late free throws that should have sealed the game for NU in regulation and would have given the Cats their 2nd win in conference play… but it is never that easy for Chris Collin and his squad.
Jarrod Uthoff had a game to remember as he momentarily broke the hearts of the Evanston faithful as his 3 pointer with under 3 seconds left, sent the game into overtime. Uthoff finished with a game high 25 points on 8 for 16 shooting from the field.
"I really feel that the shot by Uthoff went in to test us in a sick kind of way. We have had so many of these kind of games and we played that exactly how we wanted," Coach Collins said in his post-game press conference. "The looks I saw in the huddle at the end of regulation were different then the looks I saw at MSU, or down the stretch against OSU or at Maryland. It was a determined look."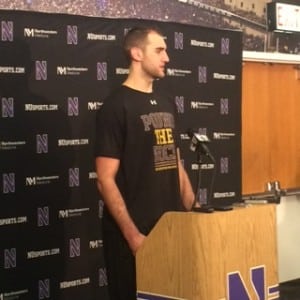 Overtime was the Alex Olah show, as his defensive performance and clutch free throw shooting broke the Cats 8-game losing streak. In the 5 minute OT period, Olah had 3 points, 4 rebounds and added 2 key blocks to seal the victory. Olah finished with another double-double, 11 points and 13 rebounds, which puts him in the top 10 for the conference.
NU's matchup with Iowa started off at a snail's pace but ended up being an exciting game with a furious finish. Both teams had opportunities to win today's game but it was the youngsters that were able to hold on in OT.
Coach Chris Collins breaks down the Iowa Northwestern game
The Cats have a couple days off until their next game in Minnesota on February 18th, where they will look to make it 2 wins in a row.
@WesEvans24
Podcast: Play in new window | Download (13.3MB) | Embed