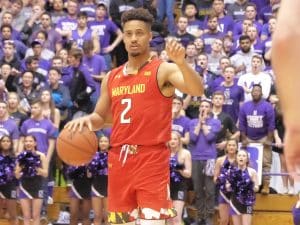 Even though they professed no hangover from the stunning win at Madison, the Northwestern  Wildcats were not at their best and thus proved to be no match for Melo Trimble and his Maryland Terrapins in a 74-64 defeat in Evanston Wednesday evening. The Arlington, Virginia junior had 32 of the Terps' 74 points, including four of five shots from three-point territory. He seemed to score at will. Inside, outside, missing only five of his seventeen shot attempts.
Northwestern needed a second strong outing to have a reasonable shot at Maryland, but played sloppy ball, and didn't shoot well. Unfortunately for the Wildcats, several of their long range shots seemed to find the rim, and mysteriously bounce out. Northwestern only shot 32.1 percent in the first half and trailed by 32-22. It also didn't help matters that Bryant McIntosh picked up his second personal foul less than three minutes into the game, and was whistled for a third four minutes before halftime.  That coupled with the continued absence of Scottie Lindsey, and his sixteen points per game average made for an uphill battle (both ways.)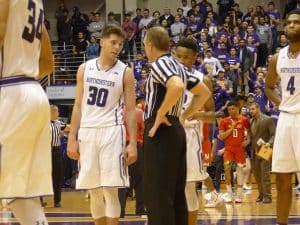 With those kind of shackles, it's even more difficult for McIntosh to be the kind of attacking player he's been all season, and he finished with only nine points.
Northwestern also missed ten free throws, as the team could not get closer than eight points down the stretch.
After the game coach Chris Collins noted, "tough loss for us. I thought Maryland played really well tonight. Tremble was fantastic. It was as good as I've seen him play.  We couldn't get anything going. We had open shots that we missed  I thought we were a step slow and they were a bit quicker."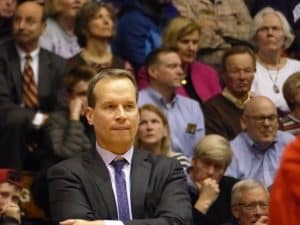 Was it a hangover from the Wisconsin win, Collins didn't think so.  "We moved on. I just think sometimes as a coach you can feels your team's energy out on the floor. I thought our heads were in the right place. We were definitely ready to play the game.  We prepared well. We were just a little bit slow."  He added "No excuses. Everybody's playing this schedule. Maryland had a game over the weekend to. They had to travel here.  We don't have a whole lot of margin for error with they guys were playing here. We have to be sharp and execute at both ends in order to beat really good teams like Maryland."
Terps coach Mark Turgeon talked about his star player. "Melo's a great player, and he showed it tonight.  Great players should be allowed to have a couple of games where they don't make shots and we still win.  He still does a lot of great things for us. I just told Melo to play with confidence. He's got to be borderline cocky out there, and I think he played that way tonight.
Next up: The Wildcats (19-7) host Rutgers (13-14) who only have two conference wins.  Maryland travels to Madison to face the league leading Wisconsin Badgers (21-4.)
Listen to postgame comments from Mark Turgeon, Chris Collins, and Wildcat F Vic Law.