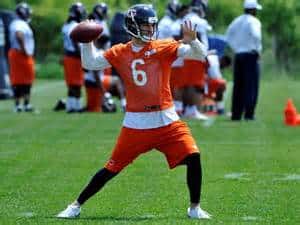 It's about time… Jay Cutler and the Bears finally put together a complete 4 quarters against the Falcons as they controlled every facet of the game. "We have to get to a point where we can consistently play at a high level on all three phases," Coach Trestman stated on Thursday. The Bears organization will never admit that they needed the victory, but Phil Emery and Marc Trestman know that 2 – 4 is way different then 3 – 3 in the NFL. Per PlayoffStatus.com, the Bears now have a 30% chance of making the playoffs after that win, while the Falcons (2 – 4) chances dropped to 12%. The Bears have an opportunity to go above .500 this weekend as the Miami Dolphins (2 – 3) come into town after their last-second loss to the Packers, 27 – 24.
The Dolphins might bring a losing record to Soldier Field, but have a defense and a running game that will require the Bears to stay sharp. Cameron Wake (DE) and Olivier Vernon (DE) anchor a defense that has given up the 6th fewest yards (331.6) per game while touting the 6th best rushing attack at 136.2 yards per game in the NFL. Knowshon Moreno was placed on IR due to a torn ACL, making Lamar Miller the feature back with his 5.2 yards per carry.
In his third year, QB Ryan Tannehill has posted an 81.5 rating, while complete just over 60% of his passes and thrown 8 touchdowns in five games this season. Tannehill has had a tendency to turn the ball over (23 in 2013) so the Bears defense will look to make the most out of their opportunities this Sunday.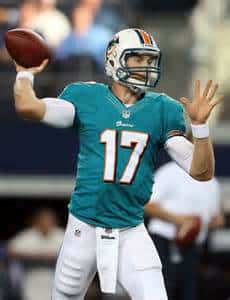 Coming off the 2nd most passing yards of his career (381), Jay Cutler will be front and center as the Bears look to get their first home win this season. "We have to find out a way to start fast at home for these noon games," Cutler said when asked about the lack of success at home. The Bears are 21 – 5 when Cutler does not throw an interception while 4 – 18 when he throws 2 or more INTs, which begs the question… Will good Jay or bad Jay show up this Sunday?
The offensive line will get a boost this week with the return of left tackle Jermon Bushrod. Bushrod injured his ankle/knee in practice and was replaced by Michael Ola. Thursday was the first time Bushrod, Slauson, Garza, Long and Mills lined up together since week one against Buffalo. If Mills continues to struggle at right tackle, look for Ola to replace him in the upcoming weeks.
The Bears need to turn things around at home and pick up the win, before heading out east to face the New England Patriots. The Pats have won 3 in-a-row and Tom Brady has found his mojo as the offense has put up 35.6 PPG during their winning streak.
Marc Trestman talking about the Miami Dolphins vs Chicago Bears Preview
Key Matchup: Jordan Mills (RT) vs. Cameron Wake (DE) – A three-time Pro Bowler against a shaky right tackle
Key Injuries: LB Lance Briggs (Out), S Chris Conte (Out) and LB Jon Bostic (Questionable)
Fact: Jared Allen has NEVER won a game at Soldier Field.
Prediction: Dolphin 24, Bears 27