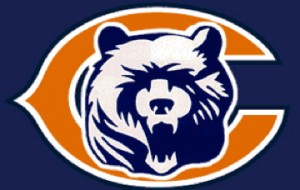 That was fun.
The Chicago Bears had an all-around dominant performance on Sunday, racking up 483 yards of offense and stymieing a Tampa Bay Buccaneers offense that had dominated in the early weeks. The Bears played with ferocious defense and explosive offense and showed the NFL just how great they can be.
Click click… BOOM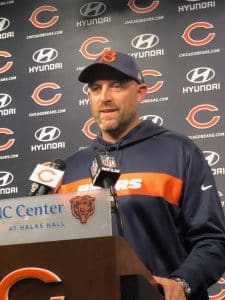 The Bears' offensive woes have brought upon a great deal of criticism through the first three weeks, and skepticism of Mitch Trubisky has only grown. Matt Nagy has preached patience in that time and has emphasized that when things click for Trubisky, great things will happen.
Things clicked on Sunday.
Said coach Matt Nagy, "Today was one of those games where everything was clicking, and the players were just — you could just tell how focused they were at execution and making sure that they did the right things when the plays were called."
Trubisky had one of the best quarterback performances Chicago has seen in a while, completing 19 of his 26 passes for 354 yards and six touchdowns.
"I knew it all week long, I really did. I knew all week long he was going to have a good game," said coach Matt Nagy. He was out there spinning the ball in practice. Our red zone practice that we had on Friday might have been the best practice that we had… since we've been together."
Nagy's play designs have given his receivers space, but Trubisky hasn't executed. Sunday showed what happens when a quarterback and playbook work hand-in-hand. He dropped two beautiful downfield touchdown passes right where Trey Burton and Allen Robinson needed them. He sold a bubble screen with a convincing pump fake and found Josh Bellamy wide open in the end zone for his fourth touchdown and he found Taylor Gabriel and Tarik Cohen in space where they are most dangerous. The two rewarded him handsomely; Cohen racked up 171 receiving yards and a touchdown and Gabriel had 104 yards and two scores.
Trubisky finally looked comfortable. He went through his reads and made accurate to his open players. He also looked very comfortable in the pocket and mostly eliminated his happy feet. One thing that stood out was his ability to manipulate the pocket on a 2nd and nine at 9:55 in the second quarter. Instead of looking to escape, he calmly slid to his right to give himself a better throwing lane. He found Burton wide open and delivered a strike that led to a touchdown. That play showed maturity and development.
The defense shut down a prolific offense
Tampa Bay came to Chicago as the number three offense in passing touchdowns and passing yards. Mike Evans and DeSean Jackson were on a tear that was navigated by Ryan Fitzpatrick. Without Prince Amukamara, it seemed as though Tampa Bay may continue its air-attack.
Nope.
Tampa Bay could not get going on offense. Save for a big play over the middle from DeSean Jackson, the Bucs' offense was held in check. Kevin Tolliver II played well in his first NFL start, but he was aided by a Bears pass-rush that just wouldn't let up.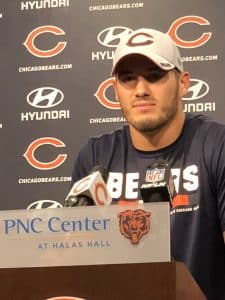 Nagy commented on his defense's performance: "For that offense that we just faced, I mean, there were 400 yards in a row three straight times, so yeah. What a credit to the defensive players and coaches for being able to come out here and really do an unbelievable job versus that great offense. So regardless of who the quarterback is or who they have doing what… you saw we got pressure."
Fitzpatrick had little time when dropping back and his receivers didn't have time to get open as a result.  He was sacked twice and finished 9-for-18 with 126 yards and an interception. For the second straight week, the Bears forced the other team to pull the starter.
Winston did not fare much better, as he too was sacked twice. He also threw two interceptions and had a touchdown in garbage time. The Bears had four sacks on the day to bring their season total to 18. Khalil Mack had another forced fumble and sack, and they benefited from excellent defensive line play. The Bears now have eight interceptions on the season, which already matches their season total from each of the last three seasons. The Bears' defense looks more special as every week goes by.
Patience is a virtue
Trubisky had not looked particularly sharp in any game of his young career, and the doubters increased with every week. Frustration grew as the offense left a lot of slack for the defense to pick up over the first three weeks. The media expectations for the timeline of a quarterback's development were far from reality, but they were still placed on Trubisky. He wasn't where he was "supposed to be," despite everything Nagy had said about being patient with expectations.
His patience paid off with Trubisky's performance.
"We really came to work with a purpose this week to go out there, break through on offense, and everyone just do their job and make plays," Trubisky said postgame. "And when you do that, you're just out there having fun with the guys. That's what makes it special."
"Mitch understands that we as coaches are doing everything we possibly can to make him feel comfortable," Nagy said on Monday.
Does this game automatically mean Trubisky is a great quarterback? No. The future remains as uncertain as it did Saturday. But what Sunday's performance did show is just how great Trubisky can be. When he has full control of the offense and is executing the plays designed to be executed, good things will happen. One offseason was never going to be enough for Trubisky to truly understand the offense. From the moment Nagy was hired, it was going to take time. This may end up as just a blip on the radar. It may end up as the start of something special. But if nothing else, Trubisky's shredding of Tampa Bay is a reminder that three weeks is not enough time to make a verdict on a quarterback's future.