The Chicago Bears took care of business in Buffalo on Sunday, dismantling the Bills en route to a 41-9 victory. The defense shined and the Bears piled on the points against an inferior Bills team. That put the team in good position for their upcoming slate of division opponents.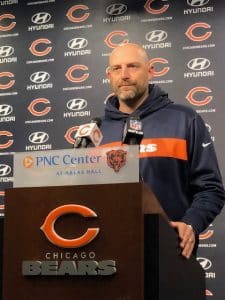 Special defensive performance
To say the Bills' offense has struggled this season would be an understatement. Marred by horrific quarterback play, they had little chance of effectively moving the ball against a ferocious Bears' defense, at least before garbage time. The Bears, the top scoring defense in the league, forced four turnovers and four sacks, tallying twelve points on their own.
"Defensively, I thought it was great to see the takeaways and the touchdowns," coach Matt Nagy said. "Two touchdowns in the second quarter, opportunistic football, guys flying around, tipping balls in the air, extra effort plays I thought. And I was looking for, 'Was it one or two players who stood out?' It was everybody. It was all 11."
The Bears' pressure was unavoidable, even without Khalil Mack. Leonard Floyd and Aaron Lynch stepped up and provided pressure off the edges that forced Peterman off balance. The majority of his passes were to the flats, but the Bears' back end was fast enough and fundamental enough to prevent those dump-offs from becoming positive plays, something they had struggled with in recent weeks. When a defense plays in harmony as the Bears did, a special product can be the result.
The Bills' most dangerous asset on offense is LeSean McCoy, and the Bears shut him down, allowing only ten yards on ten carries, and creating multiple negative plays. Chicago stymied the Bills' offense by taking away the run, making Peterman have to pass the ball, and forcing several third and long situations. Creating those less than ideal situations limits what the offense can call, and it forces the quarterback to make big throws. Peterman was unable to, and it is a big reason why the Bears were so successful.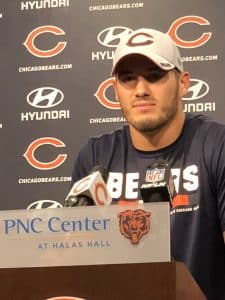 Save for one exceptional diving interception by Kyle Fuller, three of the Bears' four takeaways were collective efforts. Eddie Jackson and Roquan Smith teamed up for a forced fumble that Jackson took back for a touchdown, and Fuller broke up two passes that led to interceptions by Adrian Amos and Leonard Floyd, the latter of which resulted in a pick-six.
"The DBs speaks for themselves. They made plays, they tackled, they were flying around. Again I use the word 'opportunistic' is the best way to use it with them." – Matt Nagy
None of their takeaways were the result of sloppy turnovers from the Bills; they were true takeaways by the Bears, making their four-takeaway day even more impressive.
Fuller's dominance
As alluded to, Kyle Fuller was spectacular on Sunday. He was all over the field Sunday and was responsible for three takeaways.
Fuller's career was off to an up-and-down start, and there were questions surrounding his future before the start of the 2017 season. He responded to the competition brought in before the season with a standout season a year ago, and was rewarded with a lucrative deal this past offseason.
So far in 2018, he has earned every penny. Fuller has been one of the best players on a loaded Bears defense. He is tied for the league lead in interceptions with four and has nine passes defensed, tying him for fourth in the league.
His impact was enormous on Sunday. Peterman rarely went his way, and when he did, an incompletion or worse was the common result. He was aggressive in the open field, delivering a huge hit on a much bigger player in Kelvin Benjamin. Fuller plays with a quiet moxie that is contagious for the rest of the secondary, and that confidence has carried over into his play.
Roquan Smith's impact
Roquan Smith had his best performance as a Chicago on Sunday, recording a team-high 13 tackles and a forced fumble. Those 13 tackles match the most of his young career, and similar performances could be on the horizon.
"Credit to my teammates," Smith said. "And also just flying around, trying to make plays, giving max effort on every single play."
Nagy credited both Smith and Danny Trevathan, saying, "Linebackers, collectively between the two of them, with Danny and Roquan, I thought, both of them, it was probably their best game of the year."
It may not always appear in the stat sheet, but Smith's growth has been noticeable on a week-to-week basis. Missing training camp certainly increased his learning curve, but he seems to be adjusting to the speed and play-style of the NFL. The instincts and speed from his college tape were present all year, but has begun to marry those traits with an understanding of the game. The result? Performances like Sunday.
Follow on Twitter: @crbevins11 @radiomogul
Hear audio from Matt Nagy: