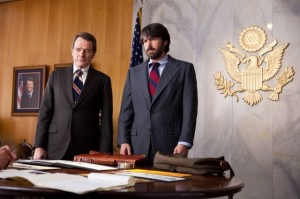 Simply put, "Argo" is one of the best movies of the year and will definitely be nominated as such when the Academy Awards come out later on.
Ben Affleck directs and stars as real life CIA operative, Tony Mendez who led one of the great escapes in history getting six Americans out of Tehran during the hostage crisis. The six were originally in the U.S. embassy but escaped out a back door before the Iranian students took over the building and blindfolded the rest of the embassy workers.
Eventually the six holed up in the Canadian Ambassador's house and with help of the Canadian government the C.I.A. went into action to somehow get these Americans back home.
Enter Affleck as Mendez who specialized in such daring feats and this time he came up with an idea that was so preposterous that it actually might work. Affleck went to Hollywood and with the help of John Goodman (movie make up person) and Alan Arkin (movie producer)  they staged a fake production and used Iran as the movie's setting. Then Affleck jetted into Tehran and trained the six Americans for different assignments on the movie and basically just flew out of the country.
Of course a lot of espionage and drama works into the plot and amazingly the six along with Affleck are eventually extracted out of the country.
"Argo" has a host of incredibly tense moments but also has more then it's fair share of humor as Goodman and Arkin bring out the best and worst in Hollywood but in a very comical nature. Arkin is one of my favorite actors who,  even though has gotten his share of acclaim,  still is under-rated in the entertainment field. He's wonderful in everything.
Affleck meanwhile is quickly becoming a younger version of Clint Eastwood. By that I don't mean he talks to empty chairs at political conventions but rather that he is becoming just as accomplished for his directing as for his acting. This is the third movie he has directed (following "Gone Baby Gone" and "The Town") and is his best effort of the three.
The movie flows at a nice steady pace and then over the last 45 minutes intensifies and becomes beyond gripping even though you know how it eventually plays out.
In real life the extraction actually went even easier then it was portrayed on the screen but you knew "Hollywood" had to play this up even bigger and more ominous then it actually was. That's ok because the story is so historic that a bit of embellishment doesn't do it any harm.
The bottom line is that the Iranians were suckered big time in allowing the six Americans to escape which might give ideas to the C.I.A. to send in another "Hollywood" team to Iran's nuclear facilities today. Hey it worked once. (Kidding on this last part)
But no kidding on "Argo". It was really enjoyable from start to finish and I rate it – a grand slam – four stars.