This is how InternetFM came into existence.
Just like many of my contemporaries, I grew up in awe of FM radio, and the disc jockeys that fronted these great rock stations of the seventies. My influences were from WROQ-FM and WAYS-AM in Charlotte, North Carolina. Everyone had a favorite DJ, whether it was Cousin Brucie from WABC or Tom Donahoe of KPMX in San Francisco. Wolfman Jack came to prominence by airing on the powerful AM's out of cross border towns in Mexico, unrestrained by FCC power limits.Mine were Robert Murphy and Jay Thomas.
Forty-two miles north of Charlotte, my foray into music radio started in the winter of 1977 at WDBM-AM in Statesville, North Carolina. It was a 500-watt, daytime only, top forty station. The town itself boasted 25,000 people, and it was where I was finishing my senior year of high school. I worked weekends, and eventually evenings, as the days got longer, and the station was allowed to remain on the air until sunset. It was live radio with two turntables, a cart machine, and no safety net. It was also $2.50 an hour. Not a promising future for someone who "has a face for radio and a voice for the printed page." I begged the FM program director to give me some airtime on the sister station to no avail. Their programming stretched well beyond the constant A-B-C song rotation and frequent repetition on the AM side.
So I decided to go to college instead, enrolled at the University of North Carolina at Chapel Hill, and majored in Chemistry (pre-med). It was probably more so because my family pushed me towards a profession, not necessarily because that was my career goal. Nonetheless, I kept working to expand my knowledge of music, hoping that someday, somehow I might try again. I probably drove my fraternity brothers crazy, constantly borrowing their records and taping them on my JVC cassette deck. And that might have been the end of the story, but as sometimes happens, life veered in a different direction, and due to some unforeseen circumstances, I never became a doctor.
That second chance came again, when an introduction and a new idea led to the launching of SRN Broadcasting in 1993. It was created as a sports talk radio channel, at a time when there was no nighttime sports on the air in the Chicago market. Later, we added a home improvement talk show, and our own local sports show, the Bears-Packers Showdown. Music was almost an afterthought. It was during the following year at WCBR-FM, where we had relocated to from our original home at WVVX-FM. SRN was hosting a live two-hour time slot on weekdays from 10 PM to midnight. Len Ackerman, who was a Bears-Packers show cast member, convinced us to take Fridays and play music instead of network sports. He recruited two friends with whom he'd done underground radio in the seventies.They brought the vinyl, and I procured two turntables, so we didn't risk ruining their records on the station's less than ideal equipment.
The station manager liked the show, and allowed us to expand to five nights a week. It made more sense given the station's alternative rock format, and a lead in from another music talk show. Listeners tuning in were getting a steady dose of vintage Pink Floyd, Genesis, Frank Zappa, Bonzo Dog Band, Moody Blues, and David Bowie, along with comedy from Firesign Theatre, Conception Corporation, and National Lampoon. Despite the late hour, the phone lines rang constantly, with high praise for the songs being played, and requests for other deep tracks. That adventure lasted only a year, but it proved that a progressive music formula could still deliver an audience. Even more impressive, was the fact the WCBR barely reached into the city of Chicago, and was mainly heard in the area's north and western suburbs.
In 1995, we obtained our first domain names. We were looking for something better than SRN, which didn't really provide a sense of what our company actually did. Since we were radio broadcasters, and just delving into the realm of online broadcasting, we combined Internet with "FM" to create InternetFM.com. We took our long form talk shows and streamed them online. We utilized RealAudio software and engaged a upstart company in Texas called Audio.net to stream these programs. They became better known as Broadcast.com, whose owner was Mark Cuban.
WCBR was where I first met Marty Zivin. He was the perfect combination of passionate music fan and technology geek. We reconnected in 2011. By then, he was streaming two online stations as Zecom Radio from his home studio, which included the audio console from the long gone station. The technology, was not only impressive, it was affordable, and fairly simple to set up. I made many trips to his Hoffman Estates home, where he essentially replicated all the elements of a radio station in his basement. He was sending the feeds to a low power FM transmitter, as well as out on the Internet. He had been streaming 24 hours a day since 2002.
I got a copy of the song library from Zecom – The Choice, a rock format with about 9000 songs from the sixties through the nineties. It took the better part of six months to prune the songs from the library that weren't quite in line with my vision. The objective was to offer a format devoid of "classic hits", and comprised of deep album tracks, covers, demos, and live versions of familiar songs. Then, the goal was to fill in the gaps with many more songs from my favorite artists such as Jimi Hendrix, Genesis, the Grateful Dead, Pink Floyd, the Doors, Led Zeppelin, Talking Heads, and more. We took every single song on each Rolling Stones album from their debut, England's Newest Hit Makers through Tattoo You and assigned each song to a broadcast category.
We repurposed an old Windows XP desktop that had been set aside in favor of a newer, more powerful computer in the SRN studios. Streaming software that runs the large corporate radio stations costs thousands of dollars. A enterprising software developer in New Zealand had created a program that worked similarly for $300. Armed with a purchased copy of StationPlaylist, Acid Flashback Radio was launched as a free form rock station on New Year's Day 2012. We also decided to add blues, jazz, new wave, alternative, indie rock, and reggae, plus we threw in a lot of pop culture sound bites. We were immediately picked up by iTunes Radio and TuneIn.
It took a long time to grow the audience. Along the way, I reached out to other stations I knew, such as Handcrafted Radio. Dan Kelley from Handcrafted in turn told us about the St. Louis Classic Rock group, which included Planet Radio. We also reached out to Radio Free Phoenix in Globe Arizona. RFP literally rose from the ashes of underground FM radio in central Arizona. They also had a sister station, Deep Oldies. Ambient Sleeping Pill was a random find, but this chill/ambient station has been a mainstay since our earliest days, and still a personal favorite for relaxing and decompressing.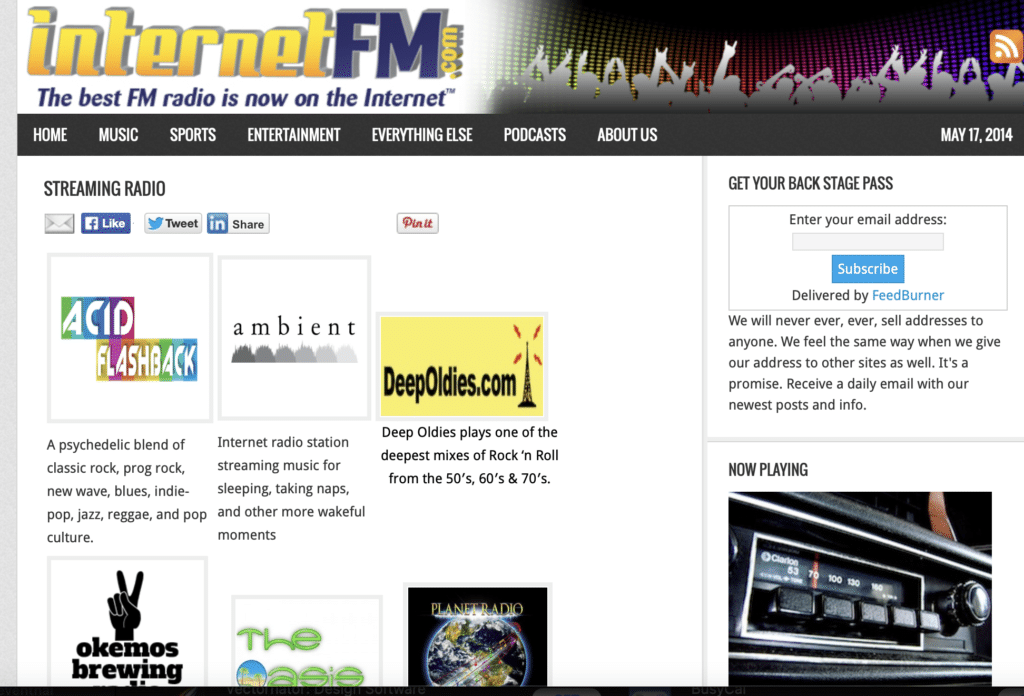 These were the seeds of what was to become InternetFM. It was all web based, with the crude audio player plugins, the only available tech at the time.
In many ways, we had to wait for the technology to catch up to the vision. There was certainly no revenue coming in. I resorted to building websites for others, and helping my wife's travel agency with bookkeeping. I drove Uber for two years. I did odd jobs here and there. I sold most of my sports memorabilia collection to keep the business afloat.
The app was we know it today began in earnest in the spring of 2018. I was visiting my son Eric in Colorado. We were at a "vinyl night" event at Left Hand Brewing in Longmont. It was there that we were attempting to show the bar tending staff our radio station. It was cumbersome to pull it up on one of their iPads. It loaded slowly. Suddenly, inspiration struck. Eric suggested we build an app in order to make it easy to display it on a mobile phone.
Many discussions took place about the best way to build the app. The most important decision we made at the time was to add multiple stations, not just Acid Flashback. We had already brought Zecom's two stations in house in 2017, after Marty Zivin passed away after a year-long battle with cancer. We sought to leverage the relationships with other stations, so we could create a unique platform. The working concept was to recreate the joy of the car radios of our youth. Everyone my age remembers their first car, its first radio, and probably the first cassette or 8-track tape they bought. Most of the existing apps did not seem to be designed to work like car radios. Furthermore, the typical radio app had thousands of stations to choose from, usually in a very cluttered interface, with annoying popups and ads.
We made two significant choices from the outset. All ads would be eliminated, and we decided to significantly limit the total number of stations by picking and choosing additional stations that shared our broadcast principles.
While development began under Eric's direction, I sought out more stations to add to the app. Our philosophy was simple. We wanted rock stations that had large libraries, radio station software for programming, and most importantly, a personality. Our guiding principle was to find kindred spirits, that is, stations that were reminiscent of the great radio stations of the sixties and seventies like WNEW, WMMR, WBCN, WCFL, KLOS, and KSAN.
On June 25th, 2018 the InternetFM app debuted in the Google and Apple app stores. It had 23 stations from the US, Canada, and UK. It wasn't the prettiest interface, but it was free of the clutter found on most other radio apps.
The person who originally designed our app took another job. Eventually, we found a new designer and began the process of updating the app based on listener feedback, and our vision for the ultimate version of the product.
We began to assemble a team of advisors and started the process of fundraising to continue with our objectives. That is detailed in a blog piece I wrote in July 2021. It chronicles the story from our first ill-fated product pitch, to the chance encounter with Gary Castagna, who made an angel investment in the business.
As we reach the end of 2021, we have split the app into separate iOS and Android versions. The total number of stations is now at 52. We have a built a tutorial to show listeners how to use all the features that are already built into the InternetFM app. Finally, our team is working on a host of new features. Stay tuned.